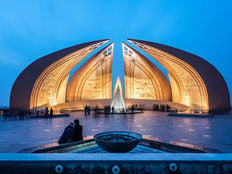 Thematic Investing Channel
The Pakistan country-specific ETF stood out Tuesday, strengthening for the second consecutive day as some bargain hunters look to a downtrodden market.
Among the best performing non-leveraged ETFs of Tuesday, the Global X MSCI Pakistan ETF (PAK C) increased by 3.0%. PAK has plunged 46.5% over the past year and decreased 29.1% year-to-date.
Pakistan's KSE-100 index declined over 10% in eight consecutive sessions to a five-year low by Friday last week.
"Such index numbers had not been seen since the infamous market closure in 2008," Topline Securities said, according to the Tribune. "Any positive news on the political (settlement with India or opposition parties) or economic front (Eurobond float, carry trades) will help in a 5-10% market recovery in the short run."
Dealers believed that Pakistan markets have strengthened in recent sessions after reeling over the past year into oversold conditions, TheNews reports.
According to Topline Securities, after multiple straight sessions of losses the Pakistani market made a recovery, attracting investors from attractive valuations.
"Trading activity improved as volumes jumped 57 percent, while the value also increased by 15 percent," the brokerage said.
"Stocks closed stronger amid higher trades led by scrips across the board on institutional speculation in oversold scrips amid foreign inflows," Analyst Ahsan Mehanti from Arif Habib Corporation told TheNews.
Pakistan's Bullish Sentiment
Mehanti also argued that the rise in global equities, higher global crude prices, improving foreign exchange reserves and external account position, along with upbeat data on power generation further added to the bullish sentiment.
In addition, the rebounded from the excessive losses last week came after efforts made to de-escalate tensions between Pakistan and India over the Kashmir region.
"We think the market (had) overreacted to the bad headlines on the economic and political fronts," Topline Securities said.
Related: Pakistan ETF Strengthens on Government Support
Nevertheless, Kashmir remains a hot button issue between the two countries and may continue to fuel political uncertainty in the region.
"Moving ahead, we expect the market to exhibit volatility in coming sessions due to overall ambiguity over Pakistan-India confrontation," JS Global analyst Maaz Mulla told the Tribune.
This article originally appeared on ETFTrends.com.
---
Content continues below advertisement