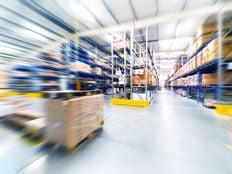 Thematic Investing Channel
The Industrial Select Sector SPDR (XLI A), the largest industrial exchange traded fund by assets, is higher by about 20% year-to-date and while that gain is nothing to scoff at, some market observers believe industrial stocks can snap out of recent funks and be resurgent by the middle of 2020.
XLI "seeks to provide precise exposure to companies in the following industries: aerospace and defense; industrial conglomerates; marine; transportation infrastructure; machinery; road and rail; air freight and logistics; commercial services and supplies; professional services; electrical equipment; construction and engineering; trading companies and distributors; airlines; and building products," according to State Street.
"Things don't look good now, but some on Wall Street think manufacturing will be growing again by the middle of 2020. That is good news because the market is forward-looking and will start to discount higher growth by year-end," reports Al Root for Barron's.
The slowdown period is characterized by capacity utilization peaks, positive output gaps, positive but decelerating growth, and more restrictive monetary policy. In this type of environment, investors may find that consumer staples, healthcare, and industrials tend to outperform, whereas materials, consumer discretionary, and real estate segments tend to underperform.
Going Deeper Inside XLI
Market observers warned that the strength in the industrial segment, which is closely tied to the health of the global economy, is notable due to the lingering uncertainty over the accuracy of corporate forecasts in light of the ongoing trade negotiations between the U.S. and China.
"We are in the third quarter of the current short cycle downturn," Barron's reports, citing Barclay's analyst Julian Mitchell. "The average downturn historically lasted six quarters."
Some have already warned that the outperformance in industrials could be short-lived if the trade deal between the U.S. and China stalls whereupon industrial companies will likely face increased costs and a slower outlook.
Related: Focusing on Disruptive Innovation for Changing Markets
"But Mitchell believes this downturn will last five quarters and the industrial economy will be growing again by the second quarter of 2020. He likens the current environment to the 2015/2016 industrial downturn," according to Barron's.
Underscoring the point that some investors have grown concerned about the recent batch of slack industrial data, XLI has seen $2.27 billion worth of outflows this year.
This article originally appeared on ETFTrends.com
---
Content continues below advertisement