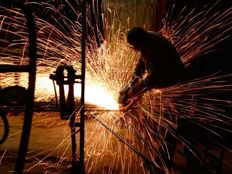 Thematic Investing Channel
Investors looking for winning sector and industry ETFs this month may be inclined to lean toward retail fare because we're in the midst of the holiday shopping season, but historical data suggest some other industries deliver better December returns.
The Invesco Dynamic Media ETF (PBS B+) is one of the prime industry ETFs to consider this month and historical data confirm as much.
PBS seeks to track the investment results of the Dynamic Media IntellidexSM Index. The underlying intellidex was composed of common stocks of 3 U.S. media companies. These are companies that are principally engaged in the development, production, sale and distribution of goods or services used in the media industry.
"Retail has been the main focus of Wall Street ahead of the holiday season, but it turns out the retail sector has not been a top performer in December during the past 10 years. Instead, the media sector, represented by the PowerShares Dynamic Media Portfolio ETF (PBS) has done well in the month," according to Schaeffer's Investment Research.
Mixing Stock Features
PBS features a mix of new and old media stocks, such as Alphabet (GOOGL), Facebook (FB), Twitter (TWTR) and CBS (CBS).
"PBS has closed the month (December) in positive territory 70% of the time in the past 10 years, with an average return of 1.6%," notes Schaeffer's.
The bulk of PBS's holdings hail from the communication services sector. Since the communication services sector is not a new sector (it is a new take on telecommunications), XLC features exposure to traditional telecom companies such as Verizon Communications Inc. (VZ) and AT&T Inc. (T). For its part, PBS is more levered to the sector's growth opportunities.
"Communication Services' average volatility (19.25%) is only slightly higher than that of Telecommunication Services (17.65%), and this increase came at a time when the S&P 500 overall was much more volatile. As predicted, Communication Services has higher average dispersion and much lower correlations than did Telecommunication Services," according to S&P Dow Jones.
This article originally appeared on ETFTrends.com.
---
Content continues below advertisement