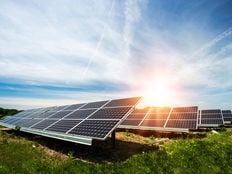 Thematic Investing Channel
In taking stock of second-quarter earnings, the Invesco Solar ETF (TAN C+), a renewable energy ETF, is currently the best performing ETF of 2019, as of Aug. 8. When looking at the path the solar sector has been on, this should not come as a surprise.
According to data provided by XTF.com, TAN is up 67.33% year-to-day. With shares currently sitting at a year-high of $31.56, this is the sort of breakout success that has the benefit of revolving around a positive source of renewable power.
Renewable Profits
As noted on ETF Trends before, the emphasis on solar power has played a significant role in TAN's performance increase. Stock prices have gone up considerably for Enphase Energy (ENPH) and SolarEdge Technologies Corporation (SEDG).
This speaks to ENPH's push in being one of the largest suppliers of microinverters, as has been reported by Josh Selway, of Schaeffer's, in the past. This key to the solar panel industry has proven to be a big win, as, "ENPH is set for record highs, trading up 21.5% before the open thanks to a second-quarter earnings beat," Selway reports.
---
Content continues below advertisement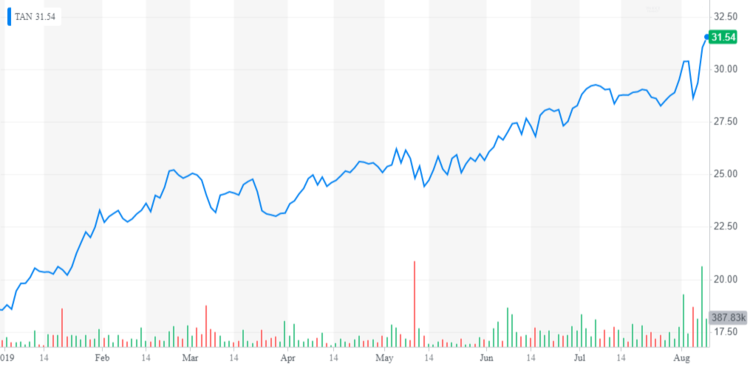 For TAN, the profits with these energy companies play right into how it functions. As detailed by Invesco, the fund's holdings are made up of companies primarily in the solar energy industry that have been selected based on relative importance to the business model. It invests all of the securities comprising that energy-based index in proportion to their weightings in the index.
Related: Clean Energy Stocks & ETFs For Socially Conscious Investors
Additional fortunate news comes from TAN not being alone in its success. While not on the same scale, other renewable energy ETFs, including SPDR Kensho Clean Power (XKCP ) and Invesco WilderHill Clean Energy ETF (PBW B), have also posed high year-to-date returns.
Considering the success that can crop up when it comes to exciting new technical funds or the state of the domestic fossil fuel industry, the strength in renewables does create a positive feeling.
For more information on the renewables space, visit our renewable energy category.