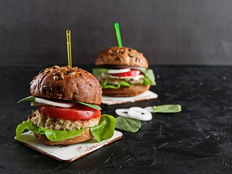 Thematic Investing Channel
Beyond Investing launched its U.S. Vegan Climate ETF (VEGN) on NYSE Arca today, providing investors with a fresh spin on socially responsible investing.
Appearing on Fox Business Network's Varney & Co. on Tuesday, Beyond Investing CEO Claire Smith discussed the fund with host Stuart Varney.
"We are taking out about 43% of the S&P 500," Smith said. "We are adding in some of the mid-caps that are more forward-thinking like Beyond Meat and Tesla, in order to make up some of the differentials in order to compensate for the things we are taking out. We feel it's a very forward looking product, which enables vegans to invest according to their principles and also looks ahead to the kind of companies that are going to be successful in the future."
Based on the Solactive US Large Cap Index, which tracks America's biggest publicly traded firms, the "Beyond Investing US Vegan Climate Index":http://www.beyondinvesting.com/our-indices/index/ is a passive, rules-based index of U.S. large cap stocks, screened according to vegan and climate-conscious principles, excluding stocks of companies whose business activities include the following:
Animals
Animal-derived products, animal farming, and other exploitation activities
Animals in sport and entertainment
Research, development, and use of genetically engineered animals
Planet
Extraction or refining, or services principally related to the extraction or refining, of fossil fuels
Burning of fossil fuels for energy production
Other activities having a significant negative environmental impact (e.g., high carbon intensity activities, high climate change impact, habitat destruction), unless the applicable company undertakes positive initiatives that effectively address those impacts
People
Armaments and products specifically designed for military and defense uses
Contributions to the abuse of human rights or lack of robust, detailed, and independently published policies covering human rights and child/forced labor
The index has nearly 280 components with an average market value of around $220 billion. The benchmark "excludes companies engaged in animal exploitation, defense, human rights abuses, fossil fuels extraction and energy production, and other environmentally damaging activities," according to the issuer.
Smith told Varney that people are waking up to the abuse of animals and are looking for different products.
"The new products which have hit the market have been incredibly successful," Smith said. "We've had lines around the block outside KFC to try the new plant-based chicken. The companies that want to continue to have a customer base need to move into this direction. They need to move fast because the societal shift is moving fast and they need their businesses to evolve."
Fresh Ingredients And Big Challenges
The challenge to bring ESG investing into wider investor adoption faces various obstacles, but more education and marketing towards these products, equities or fixed-income, can help increase awareness of these products.
"Previously, vegans and environmentalists interested in profiting on the stock market had had little choice but to, often inadvertently, profit from the harm of animals or the environment through their investment options," reports Vegconomist. "The newly accepted launch means that animal advocates and environmentalists now have an ethical stock investment option that is both cruelty-free and fossil fuel-free."
The number of vegans is soaring in the U.S. and ESG strategies are gaining popularity with younger investors, factors that could bode well for VEGN.
"So many compassionate people go to great efforts to avoid buying products that contain animal ingredients or have been subject to cruel testing, but when it comes to their investment options, they're actively, albeit often unwittingly, supporting companies and industries that exploit and torture animals," said Smith said in an interview with Vegconomist. "Our ETF offers them the opportunity to invest in line with their values. And because we love humans as much as other animals, we have defense and human rights screens as well."
This article originally appeared on ETF Trends.
---
Content continues below advertisement