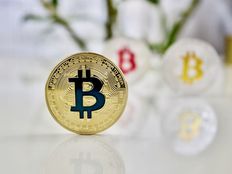 Thematic Investing Channel
With U.S. governmental hearings on Facebook's (FB) Libra cryptocurrency on July 16 and 17, Bitcoin has come under pressure recently, dropping below $10,000 and testing the 50-day moving average, which is perceived to be the dividing line between a security or stock that is technically healthy and one that is not, for the first time since February 18.
The forthcoming investigation of Libra may be dragging down Bitcoin, as past data shows BTC tends to flag ahead of congressional hearings related to cryptocurrencies, and rise on favorable outcomes.
Last year, for instance, BTC fell from $6,820 to $6,070 in the five days prior to July 12, before climbing back to $7,400 on July 18 when the House Committee on Financial Services convened for a hearing on how crypto might become the new choice of currency.
In addition to concerns over the Libra scrutiny, Bitcoin's fall also comes just days after President Trump took to Twitter to rag on cryptocurrencies.
"I am not a fan of Bitcoin and other Cryptocurrencies, which are not money, and whose value is highly volatile and based on thin air. Unregulated Crytpo Assets can facilitate unlawful behavior, including drug trade and other illegal activity," Trump wrote.
The president was also critical of Facebook's Libra, claiming that it "will have little standing or dependability."
---
Content continues below advertisement
Bitcoin seems to be uniquely linked to Libra, and so given that the outcome of the hearings is positive, BTC could see a run back above $13,800, as BTC ran up from $9,000 to $13,800 in the eight days following Facebook's unveiling of Libra's white paper on June 18.
One of the biggest problems facing the cryptocurrency space is that, even with bitcoin's prominence, no digital currencies can be deemed "widely accepted." While bitcoin futures in the U.S. got off to slow starts in late 2017 and early last year, data confirm that situation is changing.
"A week prior, on June 21, CME bitcoin futures broke $10,000, according to data on TradingView. Just one day prior to that, on June 20, the CME Group posted another record high of 5,311 open futures contracts totaling 26,555 BTC — approximately $280 million at press time," according to Zero Hedge.
Meanwhile, investors are still eagerly awaiting a Bitcoin ETF, pending regulatory approval.