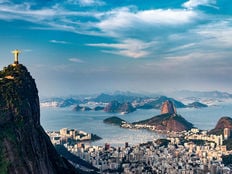 Thematic Investing Channel
One of the cornerstones of President Jair Bolsonaro's 2018 campaign was shoring up Brazil's pension system and while that effort is progressing, the iShares MSCI Brazil Capped ETF (EWZ A-), the largest Brazil-related ETF, is lower by more than 7% over the past month amid escalating fears Latin America's largest economy is nearing a recession.
Brazilian central bank's IBC-Br economic activity index, a leading indicator of gross domestic product, dropped 0.13% in the second quarter after falling off 0.68% in the three months prior, Reuters reports.
A recession is typically defined as two or more consecutive quarters of contracting economic growth. If the central bank's indicator is reflected by official GDP data this month, Brazil's economy will have fallen into recession for the first time since 2016.
EWZ remains higher by 7.30% year-to-date, better than double the returns of the MSCI Emerging Markets Index, but investors are demanding more out of Brazilian equities. Making matters worse is that EWZ hasn't recently been responsive to the pension effort.
"The plunge is perplexing because July 10 was the day that Brazil's lower house of Congress passed pension-reform legislation that investors had touted as a make-or-break event," reports Craig Mellow for Barron's.
Brazil's Central Bank Help
Brazil's central bank recently lowered interest rates and signaled it has room to further reduce borrowing costs in an effort to prop up the economy. Fortunately, Brazilian inflation is relatively subdued, giving the central bank some latitude for lower rates.
With a weakening economic outlook, Brazil's central bank has taken steps to loosen its monetary policy, even surprising markets with a larger-than-expected rate cut at its latest policy meeting. However, the looser monetary policy means a weaker real currency.
Related: Brazil ETFs Retreat as Economy Heads Toward a Recession
"Pension reform, assuming the Senate passes it this autumn, may stave off fiscal calamity. But real dynamism requires still more challenging overhauls of a maddeningly complex tax system and overweening regulation," according to Barron's.
For its part, EWZ is not technically healthy at the moment, residing 11% below its 52-week high and 4.23% below its 200-day moving average.
This article originally appeared on ETFTrends.com.
---
Content continues below advertisement