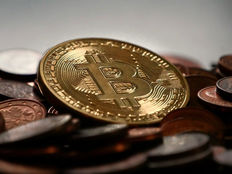 Thematic Investing Channel
CNBC's Bob Pisani puts the focus on 2020's potential for cryptocurrency, cannabis, and ESG in this segment of "ETF Edge," featuring ETF Trends' CEO Tom Lydon, and DataTrek Research's Nick Colas.
Starting with Bitcoin, Pisani wants Lydon to speak to the possibility of a Bitcoin ETF finally taking proper shape. Lydon notes a couple of good things that have happened, including the SEC's approval of the first 40 act-approved ETF. This is a mutual fund act that allows limited investing in Bitcoin.
Additionally, today the CME is offering Bitcoin options for the first time. This is excellent news. Still, the SEC is concerned about liquidity, so they will bypass through options and futures. There are also safety concerns, so the more account statements that can be publicly traded will help things out. Will this ultimately lead to a full-fledged Bitcoin ETF though? Only time will tell.
Pisani's concerns lie in the SEC being worried about how certain types of investors would respond to the potential collapse of a Bitcoin ETF, given how volatile it can be. However, Lydon argues that registered brokerage statements can provide better clarity as to what's going on, which may work in the eyes of the SEC.
Can't Contain Cannabis
Switching gears to Cannabis ETFs, they are now priced at half off of where they were a year ago. More states are legalizing marijuana, and the Fed is allowing banking.
"It's not going away," Lydon states. "As more states allow cannabis in their states, great, and also the Fed banking is key and critical."
Colas jumps in to add how any belief in a Warren or Sanders presidency would mean buying into the cannabis group would be a necessity. He believes it is very much a political play in that regard.
Moving into the ESG (environmental, social, and governance) area, the breakout product of 2020 seems to have finally attracted real money. However, will sustainable investing eventually become normal for global investors, rather than just a choice?
Colas explains, "The rip in assets last year was as much about bringing some products to market that were cheaper than the ones before, so that really helped. But I think everything is going to be ESG going forward. It's such a big topic."
Related: A POTX Perk up Could be in the Works
Lydon adds how buying the ESG form for seven bases points today means investors should be an opportunity taken. This is especially the case given how investors would not be giving up performance.
Pisano does bring up the SEC and how they still see some ambiguity in ESG regarding how to define the various categories it works with. It can be an issue, but it is better than things were five years ago.
---
Content continues below advertisement
Watch Tom Lydon Discuss Crypto, Cannabis, and More: