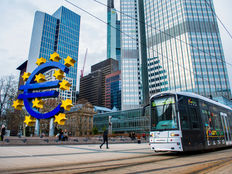 Thematic Investing Channel
The Federal Reserve decided to keep rates unchanged on Wednesday and this could be gold's main driver going forward if the data-dependent central bank deems the economy healthy enough. This could support gold prices even if the market experiences a lull in precious metal purchases after the coronavirus craze eventually fades.
Amid the outbreak, it was risk-off for investors as they piled into safe havens like bonds and gold. For the latter, it allowed prices to break free to its highest level in almost six years.
Gold was on a path of bearishness after a U.S.-China "phase one" trade deal put the risk back into the markets. However, the latest news in the coronavirus outbreak is reinvigorating demand for the precious metal.
Per a Kitco news report, gold "should remain underpinned by monetary-policy conditions even if other supportive issues – U.S.-Iran tensions and China's coronavirus – fade into the background, said the consultancy Metals Focus. Gold posted its biggest rise since 2010 last year and started the new year on a strong note, helped by geopolitical tensions after a U.S. drone strike that killed an Iranian general, as well as worries that the spreading virus could hurt the global economy. "
"Going forward, even if prevailing concerns fade, from a wider macroeconomic perspective, gold is likely to continue benefiting from supportive central-bank policies," Metals Focus said. "Further ahead, we expect global slowdown concerns to re-emerge, which should lead to rising volatility in equity markets and, in turn, encourage higher allocations into gold and other precious metals."
Precious Metal Trades
Investors looking to get in on gold can look at funds like SPDR Gold Shares (GLD A-) and the SPDR Gold MiniShares (GLDM). Precious metals like gold offer investors an alternative to diversify their holdings, and like other commodities, gold will march to the beat of its own drum compared to the broader market.
Traders looking for leverage can use funds like the Direxion Daily Gold Miners Bull 3X ETF (NUGT C+), VanEck Vectors Gold Miners (GDX B+) and the Direxion Daily Jr Gold Miners Bull 3X ETF (JNUG B-).
Investors looking at other precious metal alternatives can get in on the palladium action by looking to the Aberdeen Standard Phys PalladiumShrs ETF (PALL A). PALL seeks to reflect the performance of the price of physical palladium, less the expenses of the Trust's operations—the fund is designed for investors who want a cost-effective and convenient way to invest in palladium with minimal credit risk.
This article originally appeared on ETFTrends.com.
---
Content continues below advertisement