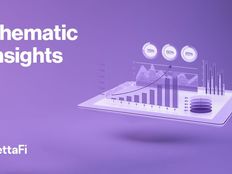 Thematic Investing Channel
In an earlier note, we discussed the likelihood of a strong online holiday shopping season in 2022 which we saw materialize  based on early data from several sources. On one hand, we credited long term trends such as more consumers adapting to digitalization and more people working remotely—both of these trends have led to higher internet usage where it is more convenient to order online rather than go into a store.
On the other hand, we've also seen some shorter term macro effects. Primarily, consumers have felt inflationary pressures and consumer spending has softened; however, we think this sort of environment could actually be more supportive of e-commerce taking market share from total retail sales. This is because price-sensitive consumers may not have the money to shop harder, but they are still shopping smarter by searching for options and taking their time looking for discounts—all of which are more easily done online than in person. We expect these trends to continue while inflationary pressures persist over the next few months and that some of this behavior could stick longer term as retailers continue to expand their e-commerce operations in response to consumer needs. In the short term, we also expect to see much of the e-commerce sector report higher top line growth in 4Q after the strong holiday season. The S-Network Global E-commerce Index (ECOMX) is already up 14.0% YTD on a total return basis compared to the S&P 500 Index (SPX), which is up only 4.7% as of January 24, 2023.
E-commerce data is estimated to be strong in 4Q22, which has been reflected in holiday shopping data.
The U.S. Census Bureau will release 4Q e-commerce data on February 18, but they have already released advance retail sales estimates through December 2022. You can estimate an approximate e-commerce sales figure by using nonstore retail sales and applying an adjustment factor based on historical data. For 4Q22, I estimate e-commerce sales to be approximately 15.0% of total retail sales compared to 14.5% of total retail sales last year in 4Q21. The estimated market share has grown significantly since 4Q19 and is only slightly below the higher levels seen in 2020. This illustrates that while the COVID pandemic did pull forward e-commerce trends, much of that pull has stuck around two years later and e-commerce is continuing to take market share.
This strength was evident during the holiday shopping season (fromapproximately Black Friday to Christmas). During this time, Mastercard SpendingPulse cited 10.6% y/y growth in online sales. According to their data, e-commerce was 21.6% of total retail sales, compared to 20.9% in 2021 and 20.6% in 2020.1 Similarly, top ECOMX constituent Shopify (SHOP) reported a 19% increase in sales from last year's Black Friday and Cyber Monday weekend.2 Adobe Insights, which releases a well-known annual holiday shopping trends report, reported that online shopping for the holiday season was 3.5% higher y/y in 2022. Much of this growth was demand driven because despite higher inflation, retailers were significantly discounting prices during the holiday season. Major product segments like electronics, toys, and apparel were discounted close to 20% to 25% from the beginning of October to the end of December, according to Adobe Insights data.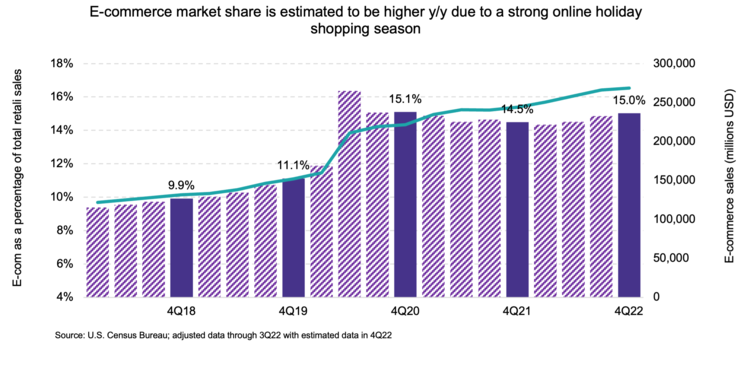 ---
Content continues below advertisement
Online shopping trends seen during the holiday season will likely stick as consumers continue to face inflationary pressures.
While inflation has shown some signs of moderating, consumers are still experiencing price pressures especially on basic necessities like food and gasoline. The highest increases in prices according to the Consumer Price Index (CPI) have been in essential items like eggs (59.9% y/y), margarine (43.8%), butter (31.4%), lettuce (24.9%), and flour (23.4%). Other essential foods items like bread and milk were up 15.9% and 12.5%, respectively. Data from the Bureau of Economic Analysis also shows that the personal savings rate has been hovering near its lowest level since 2005—around 2.4% of disposable income as of November. Because of these macroeconomic pressures, consumers have been shopping more strategically—something that is easier to do online where you can more easily do research and compare prices among different stores or vendors. Consumers shopping online have also taken advantage of omnichannel strategies (i.e., mixing both online and in-person shopping experiences). For example, the number of orders for buy-online-pickup-in-store increased more than the number of orders that used expedited or standard shipping throughout the holiday season.3 This could imply that even those consumers that prefer to pick up an item in-person still use the internet to either order the item or at least search for discounts—all of which contribute to higher website traffic and higher ad revenue for e-commerce companies. Since inflation is still relatively high so far in 2023, consumers will likely continue to shop smarter throughout the year as months of inflationary pressure pile on to consumers. While overall consumer spending may see some pressure, this would still be a long-term tailwind for e-commerce and could influence retailers to build or expand their e-commerce operations as they see e-commerce growth stay resilient through a tough spending environment.
Bottom Line: