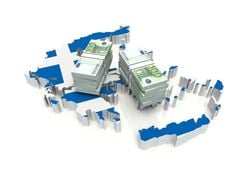 Thematic Investing Channel
In what could be a case of the baby being thrown out with the bathwater, the Global X MSCI Greece ETF (GREK B-) is lower by 7.80% this year, indicating Greek stocks have hampered by the coronavirus and speculation that other emerging markets are weakening.
However, GREK, one of 2019's best-performing single-country ETFs, may be one of the most likely funds in the group to rebound when the virus issue is put to bed and various data points confirm that the Greek economy is on increasingly firm footing.
"The gradual and sustained improvement in Greece's manufacturing sector and the wider economy has fuelled renewed appetite to invest in government bonds, yields on which have fallen to record lows," said IHS Markit in a recent note. "Alongside a push by the new government to generate backing for infrastructure developments, investors have turned their gaze towards Greece, with the country's credit rating stepping closer to investment grade, representing a major turnaround in investor appetite from the dark days of the eurozone debt crisis."
GREK seeks to provide investment results that correspond generally to the price and yield performance, before fees and expenses, of the MSCI All Greece Select 25/50 Index. The underlying index is designed to represent the performance of the broad Greek equity universe.
Good News For GREK
Last week, Greek 10-year bonds traded with yields below 1% for the first time on record.
"Supporting the sustained expansion has been a strong increase in foreign client demand, with new export orders rising despite reports of challenging external demand conditions in other key eurozone economies. It remains to be seen how stable external sales will be in 2020 as headwinds gather in the global economy," according to Markit.
Looking ahead, the new government is less likely to undo some structural reforms that have been undertaken in the past. Furthermore, the risk of higher labor costs, less labor market flexibility and erosion of wage competitiveness would decline under a New Democracy-led government.
"Brighter news from markets may translate into new long-term investment in Greece, with hopes that large-scale infrastructure projects will begin throughout 2020," said Markit. "As a result, infrastructure investment is expected to boost economic growth over the coming 12 months. Although the European Commission, Greek government and IHS Markit are forecasting stronger economic growth in 2020, the rate of expansion is expected to ease on average over the next five years."
This article originally appeared on ETFTrends.com.
---
Content continues below advertisement