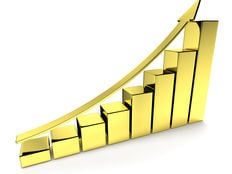 Thematic Investing Channel
ETF Trends CIO and Director of Research, Dave Nadig, was featured on Yahoo Finance on Wednesday to speak with Seana Smith on rising gold prices amid the concerns investors have regarding the Coronavirus.
As many investors pile into gold as a means for seeking safety, the question arises as to this being an appropriate strategy. Nadig noted how any major global event tends to find investors looking for safe haven assets. Gold has always been one of the best results for this. It could be even greater, according to Nadig, who states gold is only up 5-6% so far this year and only 25% over the past 12 months.
The concern then becomes whether or not things are getting too crowded. Nadig noted how there's a lot of speculators and investors, as opposed to the usual organic demand that's generally seen in gold. He points out how in 2019, demand for gold sunk low, but it was all replaced by ETF flows, with investors looking for that safe-haven asset.
If anything, this current rise should also mean keeping a focus on volatility. With only speculators and investors buying, things could dramatically shift in global markets, depending on how the world continues to respond to certain events.
No Panning, Just Planning for Gold
As far as what the best ways to play into this trend, and the associated ETFs that are most worthwhile, Nadig throws out the cheapest as a good option. This would be the GraniteShares Gold Trust Shares ETF (BAR A-), at 17 basis points a year, which Nadig describes as "dirt cheap."
Nadig also noted the biggest and most popular fund in the space, the SPDR Gold Trust (GLD A-), adding it's a great fund, one of the fastest trading securities in the world. However, it charges 40 basis points each year for the same exposure an investor could get with BAR.
When asked if it's a good idea to hedge, considering the upcoming election and possible trade negotiations between the U.S. and China, Nadig pointed out how "gold is traditionally that great hedge." However, he also pointed out that times of real crisis does not always lead to the proper counter correlation desired by those relying on gold. Still, given where things currently are, gold does seem to be appropriate are to rely on.
As far as what investors are favoring, Nadig pointed out that it's ironically "a little bit of everything." He stated, "We've had an incredible six to eight week run here at the beginning of the year. The was over $70 billion flowing into ETFs in just six or seven weeks. That's one of the best runs we've ever had, and that's kind of going into everything across the board. That's going into tech-focused ETFs, dividend stocks, bonds, junk bonds, and gold is getting good inflows as well."
It all shows how willing investors are in staying with their current risk appetite. That exposure is excellent. However, there could be an impending shift, once the supply issues begin to come into play over the next quarter.
"We have to put clear lenses on and look at the actual impact on the industrial economy of the world."
Click here to watch the full segment on-demand.
This article originally appeared on ETFTrends.com.
---
Content continues below advertisement