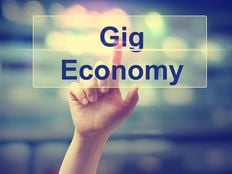 Thematic Investing Channel
ETF investors who are looking for an alternative strategy to enhance a traditional portfolio mix should explore the growth of the gig economy and diversify into this up-and-coming industry.
On the recent webcast, Put the Gig Economy to Work in Your Portfolio, Stephen Sikes, VP, Business Lead, Invest, SoFi, explained that the new group of millennials are exhibiting a drastic shift in the way they interact with the world as compared to the older generations. Most millennials buy what they know, buy what's trendy, are sensitive to prices and open to discovery.
According to a recent SoFi survey about the Gig Economy, 98% said they were consumers of the Gig Economy, with over 60% generating income through part-time and gig work over the past year. Of those earning income in the Gig Economy, almost 40% expect to participate indefinitely.
Samuel Nofzinger, Trading and Investment Manager, SoFi, explained that the "gig economy" refers to the group of companies that embrace, support or otherwise benefit from a workforce where independent consultants, contractors, temporary or on-call workers are empowered to crate their own freelance business by leverage recent developments in technology.
Looking at the Gig Economy, 37% are millennials, 28% are generation xers and 35% are baby boomers. The workforce share of gig work has increased to 15.8% in 2015 from 10.1% in 2010, and it will likely continue to grow. The Gig Economy covers industries like finance, agriculture, forestry, transportation, education, healthcare, retail, construction and others.
Michael Venuto, Chief Investment Officer, Toroso Investments; David Dziekanski, Portfolio Manager, Toroso Advisors, argued that this is an up-and-coming investment theme that captures opportunities created by long-term structural trends.
Specifically, the Gig Economy reflects a transformational change in how many businesses interact with customers, and the Gig Economy theme provides exposure to a trend or developing business model through the compilation of securities from multiple sectors and geographies. The Gig Economy theme can also act as an alternative source of return over the coming decade or enhance a traditional stock and bond mix, given the slowdown in traditional assets and depressed yields in the bond markets.
As a way to target this rising market, investors can look to the SoFi Gig Economy (GIGE B-). GIGE is an actively managed fund, advised by Toroso Investments, that is designed to seek long term capital appreciation by capturing exposure to the economic shift toward gig-oriented companies.
David Dziekanski, Portfolio Manager, Toroso Advisors, explained that GIGE's portfolio is comprised of companies with direct participation in revenue generated from gig economy, support gig economy businesses, facilitate transactions of gig economy, support gig economy non-revenue and benefit from growth of the gig economy. These companies cover platforms, transportation, payments, online e-commerce, social networks, search engine marketing, online lending, 3D printing and delivery.
Many of these gig economy companies are early in their lifecycle and are relatively inexpensive when considering the strong expected future growth. GIGE's portfolio also includes gig economy IPOs or those that have recently gone public. The constant updates help the portfolio gain exposure to shifting work and consumer habits or diversify away from any single industry.
This article originally appeared on our sister site, ETF Trends.