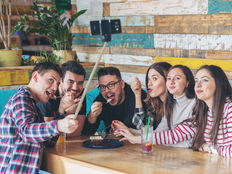 Thematic Investing Channel
Over the past several years, millennials and their investment tendencies have received increased attention. However, investors do not need to be millennials to capitalize on that demographic's spending trends.
The Global X Millennials Thematic ETF (MILN ) is open to everyone and, more importantly, this thematic exchange traded fund is soaring. After hitting another record high Monday, MILN is higher by nearly 21% this year.
The millennial generation is classified as U.S. citizens born approximately between 1980 and 2000. Millennials account for one quarter of the nation's population and are positioned to become a strong part of the workforce within the next decade.
"The sheer size of the Millennial generation, along with their gradual movement towards peak earning years and a historic transfer of wealth from Baby Boomers to Millennials means that Millennials will become an economic force within the U.S. economy," says New York-based Global X.
Marvel At MILN ETF
MILN, which is nearly three years old, tracks the Indxx Millennials Thematic Index. The fund's components "come from a broad range of categories, including: social media and entertainment, food and dining, clothing and apparel, health and fitness, travel and mobility, education and employment, housing and home goods, and financial services," according to Global X.
MILN, the first to hit the market as a Millennial-based ETF, tracks the INDXX Millennials Thematic Index.  It includes holdings such as Facebook (FB), Netflix (NFLX), Apple (AAPL), and Amazon (AMZN).
"ETFs are an ideal way for other investors to access millennial themes and trends, but investors should note there are important differences between "millennial ETFs," or those that appear geared toward themes tied to this generation, and ETFs millennials themselves like," reports InvestorPlace.
MILN holds 75 stocks and the fund allocates about 27% of its weight to media companies and Internet retailers. The fund also features significant real estate and traditional retail exposure.
For more information on thematic ETFs, visit our Thematic Investing Channel.
Have you signed up for the ETF Trends & ETF Database Virtual Summit on Wednesday, April 17? It's complimentary for financial advisors (earn up to 5 CE Credits)! Register now to learn about inside the disruptive technology revolution.
---
Content continues below advertisement