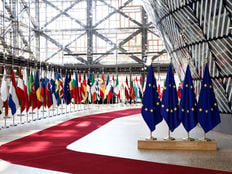 Thematic Investing Channel
Europe-related ETFs are gaining momentum, with Eurozone markets hitting new highs as the banking sector led the charge, amid a broader global rally.
The iShares MSCI Europe Financials ETF (EUFN B), which provides a targeted play on European financial companies, increased 1.0% on Thursday. Meanwhile, the Vanguard FTSE Europe Index Fund ETF Shares (VGK A) and iShares MSCI Eurozone ETF (EZU B+), the two largest Europe-related ETFs by assets under management, rose 0.2% and 0.5%, respectively.
However, these non-currency-hedged ETFs have yet to hit their record highs due to a weakening euro currency. For instance, the Invesco CurrencyShares Euro Currency Trust (FXE A), which tracks the euro currency against the U.S. dollar, declined 1.5% over the past month and fell 4.5% over the past year.
On the other hand, currency-hedged ETF strategies have outperformed. Over the past year, the Deutsche Xtrackers MSCI EMU Hedged Equity ETF (DBEZ A-) increased 21.7%, iShares Currency Hedged MSCI EMU ETF (HEZU B) advanced 21.2% and WisdomTree Europe Hedged Equity Fund (HEDJ B) rose 17.4%. In comparison, VGK was up 15.0% over the past year and EZU was 13.8% higher.
As ETF investors seek international exposure to diversify their equity portfolio and potentially tap into more attractive plays abroad, traders should consider currency-hedged strategies that allow investors to capture upside potential in the global markets while hedging against potentially weakening international currencies or a stronger U.S. dollar.
The pan-European STOXX 600 index extended gains to a fourth session and closed at an all-time high, Reuters reports. Additionally, the Eurozone banks index posted its biggest single-day gain in a month.
The markets strengthened Thursday as Beijing said it will reduce tariffs after signing the phase 1 trade deal with the U.S., lifting some of the uncertainty associated with a protracted trade war that has weighed on the global economy.
This article originally appeared on ETFTrends.com.