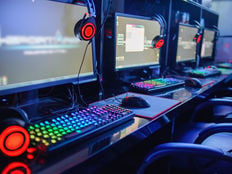 Thematic Investing Channel
VanEck Video Gaming and Esports ETF (ESPO B-) is approaching its one-year anniversary and is doing so with some superlatives on its side. The ETF has $38.1 million in assets under management, a solid start for a thematic fund. More importantly, ESPO is up about 30% year-to-date.
ESPO seeks to track the performance of the MVIS® Global Video Gaming and eSports Index (MVESPO). The index is a rules-based, modified capitalization-weighted, float-adjusted index intended to give investors a means of tracking the overall performance of companies involved in video gaming and eSports
ESPO "provides targeted access to the largest companies involved in developing and publishing video games, esports, and related hardware," said VanEck in a recent note. "The resulting portfolio is global, with heavy representation from the U.S. and Asia. Some of the names in the portfolio are more well-known than others. Most investors are probably already somewhat familiar with Tencent, Nvidia, and Nintendo. Here are a few other names that might be flying under the radar."
ESPO components may include developing video games and related software, streaming services, and/or those involved in eSports events. To be included in the index, companies must generate at least 50% of their revenues from video gaming or eSports, which allows ESPO to have the highest concentration, among U.S.-listed ETFs, of pure-play names participating in this fast-growing space.
Exploring ESPO's Global Exposure
ESPO is a global ETF, but its geographic exposure is heavily allocated to Asian and U.S. companies. The U.S., Japan, and China combine for nearly 78% of the fund's geographic weight, according to issuer data.
Well-known American companies on ESPO's roster include Advanced Micro Devices (AMD) and Zynga (ZNGA).
AMD "is a well-known U.S. semiconductor company that generates substantial revenues from Graphical Processing Units (GPUs) that facilitate the gameplay of video gaming on both PCs and consoles," said VanEck. "Advanced Micro Devices' chips are used in Microsoft's popular Xbox console; Advanced Micro Devices was also chosen by Google to create custom GPUs for Google's cloud gaming platform Stadia."
Related: Esports Event Has Investors Seeking Out NERD ETF
Shares of Farmville maker Zynga are up 45% this year, providing a boost to ESPO.
"Zynga is focused heavily on social video game services that are tied directly to consumer's social media accounts; Zynga's popular poker game was the first game that Facebook introduced on its social networking platform," according to VanEck. "In its most recent earnings report in August, Zynga stated it was on track to post its best yearly sales since 2012, raising its sales outlook for the full year to $1.24 billion."
This article originally appeared on ETFTrends.com
---
Content continues below advertisement