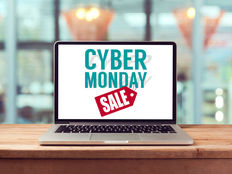 Thematic Investing Channel
Fresh off another record-breaking Singles Day in China, U.S. shoppers and investors will attempt to follow suit on Cyber Monday later this month. That new national tradition could prove beneficial for a a slew of ETFs, including the Global X E-commerce ETF (EBIZ).
EBIZ tries to reflect the performance of the Solactive E-commerce Index, which include companies that are positioned to benefit from the increased adoption of e-commerce as a distribution model, including but not limited to companies whose principal business is in operating e-commerce platforms, providing e-commerce software and services, and/or selling goods and services online, according to the fund's prospectus.
"Online sales for the day (Cyber Monday), which this year lands on Dec. 2, are expected to drive over $3 billion in revenue – with sales conversions nearly doubling during these 'golden hours of online retail' starting at 10 p.m. through 1 a.m. the following morning," reports Home Textiles Today.
Shopping and consumer trends are changing as more buyers rely on the convenience of online retailers to quickly and easily meet their discretionary needs. As the retail landscape changes, investors can also capitalize on the trend through ETFs that target the e-commerce segment.
"Additionally, $1 out of every $5 dollars will be spent during Cyber Week between Thanksgiving Day and Cyber Monday, generating $29 billion – or 20% – of total online revenue this season," notes Home Textiles.
Shifting Demographic Trends
As the retail landscape changes, investors can also capitalize on the trend through ETFs that target the e-commerce segment. Demographic trends are driving those shifts.
Interestingly, EBIZ intersects with some other thematic ETFs, including the Global X Robotics & Artificial Intelligence Thematic ETF (BOTZ).
BOTZ "seeks to invest in companies that potentially stand to benefit from increased adoption and utilization of robotics and artificial intelligence (AI), including those involved with industrial robotics and automation, non-industrial robots, and autonomous vehicles," according to Global X.
"E-commerce companies like Shopify rely on AI technologies to automate their fulfillment centers. And Shopify wants to accelerate its growth potential with fulfillment networks capable of competing with Amazon," said Global X in a recent note. "The company wants to provide clients with timely deliveries, lower shipping costs, and everything required to handle deliveries and returns. Shopify's recent $450 million acquisition of 6 River Systems will integrate fully automated collaborative-robots (co-bots) into its picking process, as well as autonomous pick-carts that can navigate fulfillment centers. 6 River's co-bots could accelerate cart pick rates by 2–3x and, given its cost-savings economics, have a 12–18 month payback period."
This article originally appeared on ETFTrends.com.
---
Content continues below advertisement