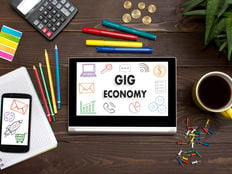 Thematic Investing Channel
In an evolving market, more workers are taking advantage of the "side-hustle," or the rapidly growing gig economy that is changing the way we define the traditional workplace.
On the upcoming webcast, Put the Gig Economy to Work in Your Portfolio, Michael Venuto, Chief Investment Officer, Toroso Investments; David Dziekanski, Portfolio Manager, Toroso Advisors; Samuel Nofzinger, Trading and Investment Manager, SoFi; and Stephen Sikes, VP, Business Lead, Invest, SoFi, will explore the growth of the gig economy and explore ways financial advisors can diversify investments into this up-and-coming industry.
"More investors and their financial advisors are considering the gig economy as a potential high-growth investment and an effective way to have their portfolios benefit from long-term, global labor and technology trends," according to SoFi.
As a way to target this rising market, investors can look to the SoFi Gig Economy ETF (GIGE B-). GIGE is an actively managed fund, advised by Toroso Investments, that is designed to seek long term capital appreciation by capturing exposure to the economic shift toward gig-oriented companies.
The "gig economy" refers to a group of companies that embrace and support the workforce in which employment is based around short-term engagements that allow for flexibility and personal freedom and temporary contracts. The fund is structured so that most companies that IPO can be included in the portfolio within 31 days of their IPO, as opposed to traditional passive funds that must likely wait 60 to 90 days to include a new IPO. For example, GIGE includes some well-known, side-job names like Uber and Lyft, which recently launched their IPOs.
GIGE companies are taken out of four categories, including platform businesses, services and transaction businesses, marketing businesses and ancillary businesses.
Platform Businesses cover what most people think of when they hear gig economy, including app-based platforms, web-based stores, auction sites, and other commission-based platforms such as Alibaba, eBay and Etsy.
Services and Transactions Businesses include companies that facilitate transactions and support the operations of the gig economy such as DocuSign, PayPal and Square.
Marketing Businesses or a new breed of marketing that takes place across social media and messaging companies, including names like Eventbrite, Facebook, Tencent and Twitter.
Lastly, Ancillary Businesses are comprised of non-traditional companies, such as HealthEquity, that are not directly related to the gig economy but support and/or benefit from the gig economy.
Gig Economy Size and Growth Potential
Growing Gig Workforce: Independent workers are a significant part of today's workforce. In the U.S., independent workers are nearly 42 million adults. Nearly half – 47% – of the U.S. adult workforce is either currently working as an independent or has at some point during their career. Over the next five years, that figure is projected to grow to 52%.1
According to the Freelancing in America study by Upwork and the Freelancers Union, the freelance workforce grew at a rate three times faster than the U.S. workforce overall since 2014. At its current rate, the majority of the U.S. workforce will be freelancing by 2027.2
Outside the U.S., an estimated 4.8 million people in the U.K. and up to 162 million across the European Union (EU) work in the gig economy.3 Freelancers are the fastest-growing labor group in the EU with their number doubling between 2000-2014.4
Growing Number of Gig Companies: The more that people work in and interact with the gig economy, the more gig companies will be created and rapidly grow. While startups may experience volatility, consider their high-growth potential. For example, Grubhub's revenue for the quarter ending March 31, 2019, was a 39.21% increase year-over-year and DocuSign's revenue for the quarter ending April 30, 2019, was a 37.32% increase year-over-year. More established firms such as Amazon, PayPal and Twitter had first quarter revenue growth increases year over year of 16.96%, 12.02% and 18.35%, respectively.5
Financial advisors who are interested in learning more about the growing gig economy can register for the Thursday, August 15 webcast here.
Sources:
1] https://sifted.eu/articles/fintech-gig-workers/
2 Deloitte, "Deloitte Insights: 2019 Global Human Capital Trends" report.
3 https://macrotrends.net
4 MBO Partners.
5 Upwork and Freelancers Union.
---
Content continues below advertisement