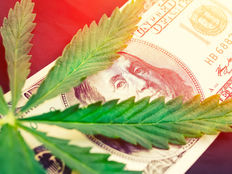 Thematic Investing Channel
Global X ETFs debuted the Global X Cannabis ETF (POTX ) on Thursday that aims to provide investors with an efficient tool to access leading companies across the cannabis industry.
POTX, which tracks the Cannabis Index, is Global X's 15th fund in its Thematic Growth suite.
Global X research analyst Pedro Palandrani said the cannabis industry is growing rapidly, with wide-ranging potential applications.
He said POTX has a few key features that they believe makes it compelling to a broad audience, particularly more discerning advisors and institutional investors who are interested in the cannabis space and want a product that provides high quality access to it.
"With our Thematic Growth ETFs, we are hyper-focused on providing high quality, targeted access to investable emerging trends to accurately capture their future growth potential," Palandrani said. "Cannabis provides a unique opportunity to access a trend in its nascent stages, driven by advancements in medicinal and industrial uses, but with further upside potential given increasing efforts to legalize recreational use. As regulations evolve, we may see the emergence of enormous regulated markets, and we are thrilled to help a broad range of investors navigate this theme in a rigorous and compliant way."
By tracking an index that specifically targets companies that attribute at least 50% of their revenue, operating income, or assets from the cannabis industry, POTX aims to offer investors a focused approach to investing in an emerging industry that may benefit from further legalization efforts across North America and the rest of the world.
Potential holdings include companies that are involved in the legal production, growth, and distribution of cannabis including industrial hemp, as well as companies operating legally in other areas of the cannabis industry, such as those involved in pharmaceutical applications, extracts, and derivative products, cannabidiol (CBD), and additional areas. Eligible holdings may only supply products and/or perform activities related to the cannabis industry in a manner that is legal under applicable national and local laws, including U.S. federal, state, and local laws.
The fund makes additional efforts to prioritize quality and appeal to discerning investors, including utilizing top flight service providers, and incorporating thorough screens of the potential universe of holdings for adherence to applicable regulatory and legal environments. Further, POTX will charge a management fee of 0.50%, making it the lowest cost passive cannabis-focused ETF in the US.
Palandrani said the cannabis space is still in its nascent phase, with many key players not being brand names yet and not being listed in the US.
"The space also faces heightened idiosyncratic risks as these companies grow and navigate and evolving regulatory landscape," he said. "Therefore, we believe an ETF that accurately identifies the pure play companies in the space, provides access to overseas investments, and helps to diversify idiosyncratic risks associated with individual companies can be very useful tool for investors looking to enter the cannabis space."
Legal cannabis revenue to reach $14.9 Billion in 2019
In 2019 alone, revenue derived from legal cannabis is expected to reach $14.9 billion, a 36% year-over-year growth rate. There are indications that this growth could occur even more rapidly as recreational use becomes legalized in additional jurisdictions.
Colorado, which legalized recreational retail distribution of cannabis at the state level in 2014, initially saw sales of $14 million per month. By June 2019, it had reached $122 million in monthly sales. As evidenced by various countries and multiple states across the US supporting full recreational cannabis legalization, there could be substantial further growth of this emerging industry, both internationally and within the United States.
"Areas with fully legalized recreational use of cannabis are experiencing substantial growth in their markets. In Colorado, for instance, sales have grown at a CAGR of 48% since the beginning of 2014," Palandrani said. "In Canada, which legalized cannabis a little less than a year, sales of cannabis have grown by over 50%. For some context, the S&P 500 experienced a year of year growth rate of just 2.8% in Q3. Going forward, we expect sales growth to continue at a rapid pace as further jurisdictions consider legalizing medical and recreational use, social attitudes continue to evolve, and the cannabis industries matures its distribution efforts."
This article originally appeared on ETFTrends.com
---
Content continues below advertisement