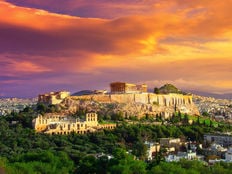 Thematic Investing Channel
The Global X MSCI Greece ETF (GREK B-) is up nearly 43% easily making it one of this year's best-performing non-leveraged ETFs. Obviously, GREK, the lone Greece ETF listed in the U.S., is one of 2019's stars among Europe ETFs.
Even though there's still a lot of work to do, Greece still has the highest debt load and the unemployment rate in the Eurozone. Nonetheless, more investments and tax cuts could help propel growth for Greece in 2020. Data indicate Greece's efforts to clean up what was once one of Europe's messiest sovereign balance sheets are paying off.
"In the euro-zone, Greece's economic recovery continues to stand out," said Global X in a recent research piece. "Despite the backdrop of a weak Europe, manufacturing continues to rebound into its 27th consecutive month of expansion."
Looking ahead, the new government is less likely to undo some structural reforms that have been undertaken in the past. Furthermore, the risk of higher labor costs, less labor market flexibility and erosion of wage competitiveness would decline under a New Democracy-led government.
Bright Outlook On Sunny Greece
GREK seeks to provide investment results that correspond generally to the price and yield performance, before fees and expenses, of the MSCI All Greece Select 25/50 Index. The underlying index is designed to represent the performance of the broad Greece equity universe.
"Unemployment is falling and GDP recovering steadily, while tourism booms and the financial sector slowly regains its health. After a strong start to 2019, Greece still maintains its spot as the best performing emerging market," according to Global X.
This year, GREK is beating the MSCI Emerging Markets Index by a margin of better than 4-to-1. A recent IMF forecast also shows that Greece will be the fourth fastest-growing GDP once 2019 is said and done after the country "has gone through several years of depression."
Related: Another Ray of Light For This Hot Greece ETF
Greece was recently able to issue negative-yielding, another sign global investors are betting the economic recover there is legitimate.
"Yet, despite the progress made in Greece thus far, further progress is needed for a full recovery. Ample runway is left for Greek markets to return towards pre-crisis levels – which makes valuations particularly attractive," notes Global X.
This article originally appeared on ETFTrends.com.
---
Content continues below advertisement