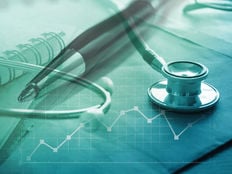 Thematic Investing Channel
The Health Care Select Sector SPDR ETF (XLV A), the largest ETF dedicated to the sector, is up just 6% this year, putting it well behind the S&P 500 and other sector funds, but after lagging the broader market for more than eight months, healthcare stocks could be on the mend.
Among other factors, XLV and friends have been dogged this year by speculation that Medicare For All could become a reality if Democrats win the White House in 2020. Many of the most visible Democratic contenders for that party's 2020 presidential nomination are embracing Medicare For All. However, XLV's recent price action suggests the benchmark healthcare ETF is shaking out of its slumber.
Deutsche Bank analyst George Hill said many healthcare stocks are "Range-bound given the overhang of the 2020 election [as]investors fear the bogeyman of healthcare reform will finally emerge from the Washington DC cellar," reports Teresa Rivas for Barron's.
Previously, investors embraced healthcare stocks for the sector's growth and defensive characteristics, providing investors with yields and valuations that are less stretched than other yield-producing stocks like utilities. Some market observers believe the sector's selloff is overdone and that healthcare stocks could be poised to bounce back.
Attractive Valuations
Deutsche Bank's Hill "still initiated coverage of the managed-care industry and companies in the drug supply chain, taking a positive view of the sector. Hill said valuations are attractive and noted that investors can sidestep some of the political uncertainty by favoring diversified businesses that have more defensive characteristics," according to Barron's.
Investors looking for exposure to managed care providers can consider the iShares U.S. Healthcare Providers ETF (IHF A-), which has been hindered by Medicare For All talk and is up just 3.3% year-to-date.
Related: 8 ETFs to Capture Opportunities in Healthcare Sector
IHF is a traditional index fund that targets U.S. equities in the healthcare providers sector. Specifically, the ETF provides exposure to U.S. companies from health insurance, diagnostics, and specialized treatment.
That fund could see some volatility over the near-term as another round of Democratic debates, which could bring more Medicare for All talk, lurks.
This article originally appeared on ETFTrends.com
---
Content continues below advertisement