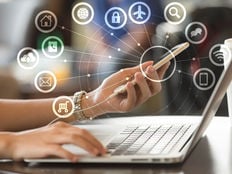 Thematic Investing Channel
FDNI tracks the Dow Jones International Internet Index. That benchmark "is designed to measure the performance of the 40 largest and most actively traded international stocks in the internet industry," according to S&P Dow Jones Indices. "To be eligible for the index, a company must derive at least 50% of its cash flow from the internet, as well as be classified in one of the 17 GICS industry groups that have internet-related companies."
FDNI features exposure to 10 countries and the fund's geographic exposures are a mix of developed and emerging markets. However, the fund is Asia-heavy as China, South Korea and Japan combine for about 70% of FDNI's geographic weight.
"The Internet is reaching further than ever before to connect our world, businesses and personal lives through what is known as the Internet of Things (IoT), or the billions of connected physical devices (cell phones, routers, wearables, home appliances, vehicles, to name just a few)," said First Trust. "We are now living in a universe of intelligent products, services and ways of conducting business that are increasing efficiency, while also uncovering a new era of economic growth."
Have you signed up for the ETF Trends Virtual Summit on Wednesday, April 17? It's complimentary for financial advisors (earn up to 5 CE Credits)! Register now to learn about inside the disruptive technology revolution.
China Looms Large
Alone, China commands nearly 51% of FDNI's geographic exposure. That is a point for investors to consider at a time when China's Internet growth remains robust and e-commerce growth there is surging.
"Online retail sales in China exceeded ¥9trn in 2018, topping the world for the sixth consecutive year, spokesperson Gao Feng said during a regular conference of the Ministry of Commerce (MoC) on 21 March," reports The Telegraph. "The country's online retail sales maintained high-speed growth over the past 10-plus years, said Gao, who is also deputy director-general of the General Office of the MoC."
China has been looking to increase internal consumption to reduce the economy's sensitivity to exports and those efforts appear to be paying dividends. While some data points indicate the Chinese economy and consumer spending are slowing, policymakers remain proactive.
For more on thematic ETFs, please visit our Thematic Investing Channel.
---
Content continues below advertisement