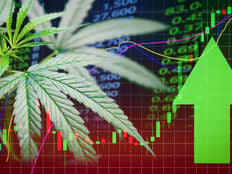 Thematic Investing Channel
The Global X Cannabis ETF (POTX ) is the newest addition to the cannabis ETFs fray and like rival new cannabis ETFs, the fund is dealing with some rough timing because marijuana stocks have been slumping. However, the underlying investment thesis for POTX remains solid, particularly as more favorable steps toward broader legalization are taken in the U.S.
POTX's underlying index holds "companies involved in the legal production, growth and distribution of cannabis and industrial hemp, as well as those involved in providing financial services to the cannabis industry, pharmaceutical applications of cannabis, cannabidiol (i.e., CBD), or other related uses including but not limited to extracts, derivatives or synthetic versions," according to Global X.
There are some inklings the political environment in the U.S. is growing increasingly favorable toward the cannabis industry and related investments.
"With bipartisan support earlier this week, the U.S. House of Representatives voted 321-103 to pass the SAFE Banking Act, which could enhance access to traditional banking and financial services products for cannabis producers and retailers," according to Nasdaq.
Planting Some Big Opportunities
The industries that constitute the multi-billion dollar cannabis universe represent a new frontier, where proper caution and due diligence must be exercised surrounding its regulations and risks, in seeking attractive long-term cannabis investment opportunities.
Vital to the long-term thesis for cannabis ETFs, including POTX, is increased liberalization of the U.S. marijuana market and how Canadian companies perform in the U.S. because Canadian cannabis firms represent 80% of POTX's weight.
There was some good news on that front recently as Utah signed a bill allowing for more medical marijuana dispensaries. Some other states are poised to consider legal marijuana measures next year.
Related: Get Ready, Another Cannabis ETF Lights Up
"Adding to political ebullience is talk that both South Dakota and Wisconsin could put legal marijuana initiatives on 2020 ballots. That news comes on the back of headlines indicating governors from Connecticut, New York and other states in that region will form a group to coordinate marijuana policies," reports Nasdaq.
Over the history of the cannabis ETF space, albeit brief, funds have shown some positive correlation to increased legalization headlines in the U.S. So as more of those scenarios emerge, POTX could benefit.
This article originally appeared on ETFTrends.com
---
Content continues below advertisement