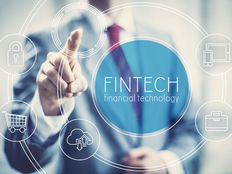 Thematic Investing Channel
The Global X FinTech Thematic ETF FINX (FINX), the first exchange traded fund dedicated to the fast-growing fintech space, is up almost 22% year-to-date. FINX offers long-term potential due to several important catalysts, including the mobile payments boom.
FINX targets companies on the leading edge of emerging financial technology industry, which includes a range of innovations that caters toward businesses engaged in insurance, investing, fundraising and third-party lending through unique mobile and digital solutions.
Electronic and mobile payments are expected to be key drivers of fintech growth in the coming years.
"Recent M&A in the payments industry and growing retailer adoption of cashless transactions further confirms the US payment industry's growth prospects," according to Fitch Ratings. "Strong demand for electronic payments capabilities and related technology should support industry fundamentals for merchant acquirers, card processors, network operators, and technology and gateway providers, but large-scale acquisitions may have credit implications."
As expressed by FINX, fintech "encompasses a range of innovations helping to transform established industries like insurance, investing, fundraising, and third-party lending through unique mobile and digital solutions," according to Global X.
The ETF holds 37 stocks from 10 industries, most of which are from the financial services and technology sectors. About 10 countries are represented in the fund, but the U.S. accounts almost 70% of the ETF's geographic weight.
"Growth of credit, debit and mobile payments continues to outpace that of global cash spending, even though a large percentage of US consumers currently rely on cash or checks," said Fitch. "According to The Nielson Report, 24% of US payments volume and 31% of transactions in the US were in cash in 2017. These percentages are projected to decline to 16% and 25%, respectively, by 2022 but remain meaningful."
Fintech allows financial firms to leverage cutting edge technology to reduce costs, improve decision making and risk controls, remove middlemen and enhance customer experiences. A thematic approach includes investments that stand to benefit from structural change driven by demographic and technological changes.
"According to PayPal, 30 million Americans are financially underserved and rely heavily on cash," notes Fitch. "Certain states, including New Jersey and New York, have either passed or are considering legislation that would ban cashless retailers on the view they discriminate against consumers without credit or bank accounts. We believe cash will remain important in US payments in the next decade but expect electronic payments to continue to diminish cash's role over time."
For more information on thematic ETFs, visit our Thematic Investing Channel.