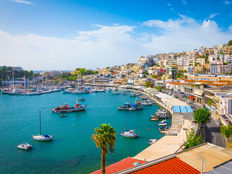 Thematic Investing Channel
The Global X MSCI Greece ETF (GREK B-), the only ETF dedicated to Greek stocks, is slumping this month, but that may be more a symptom of weakness in emerging markets and Eurozone stocks, not a commentary on the resurgent Greek economy.
In fact, more good news is emerging for GREK, a fund that is up 28.55% this year. Data indicate Greece's efforts to clean up what was once one of Europe's messiest sovereign balance sheets are paying off.
""Greece":https://www.bloomberg.com/quote/1004Z:GA is lifting all remaining limits on the free movement of capital outside the country after four years of restrictions, signaling a further return to normality for the country's economy," reports Bloomberg. "Capital controls are 'now a thing of the past," Prime Minister Kyriakos Mitsotakis told lawmakers in Athens on Monday, after announcing the move. The restrictions will officially be lifted on Sept. 1."
Politics Couldn't Stop Surging ETF
The divided politics and a rise in populist sentiment dragged on Greek markets, but after a request by left-wing Prime Minister Alexis Tsipras to dissolve parliament, followed by a scheduled early national election, the country-related ETF is surging. However, there are other reasons why Greek are among the Eurozone's most impressive performers.
Looking ahead, the new government is less likely to undo some structural reforms that have been undertaken in the past. Furthermore, the risk of higher labor costs, less labor market flexibility and erosion of wage competitiveness would decline under a New Democracy-led government.
"The controls were first imposed in June 2015 after former Prime Minister Alexis Tsipras reached a standoff with creditors after announcing a referendum that sent depositors running to line up in front of ATMs," according to Bloomberg.
Related: Greece ETF Rallies on Promising Economic Reforms
Tsipras originally pledged to scrap all painful spending cuts, tax hikes and income reductions to adhere to bailout loan requirements that protected the country from bankruptcy. However, negotiations with creditors led to limits on withdrawals from banks and a near-bankruptcy. Eventually, Tsipras succumbed to pressure against the wishes of his original voters to sign a new multi-billion bailout deal that came with conditions of tax hikes and pension cuts.
"The complete lifting of the restrictions is in full cooperation with the country's central bank and the European authorities, Finance Minister Christos Staikouras said in a speech in parliament Monday," according to Bloomberg.
This article originally appeared on ETFTrends.com.
---
Content continues below advertisement