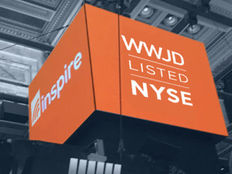 Thematic Investing Channel
Biblically responsible investing firm Inspire Investing launched its fifth fund in two years on Tuesday: the Inspire International ESG ETF (NYSE: WWJD).
The fund launch looks to build on the success of its previous biblical ETFs and continuing their aggressive effort to advance the biblically responsible investing (BRI) movement.
WWJD is a faith-based ESG (environmental, social and governance) ETF that comes with an expense ratio of 0.8%. The fund is comprised of 150 biblically aligned large cap companies outside of the United States, as measured by Inspire's revolutionary Inspire Impact Score methodology, which measures a company's positive impact on the world.
WWJD is equally weighted, rebalanced quarterly, and reconstituted annually, requiring constituents to have a minimum $5 billion market cap or higher and be domiciled outside the U.S.
Inspire CEO Robert Netzly said its newest ETF helps bolster its current biblical ETF investment lineup by providing a way to invest in international companies without compromising on biblical values.
"We are incredibly humbled at the outcry of support from our investors and advisors that are choosing to align their investments with their faith," Netzly said. "We are here to serve them and increasing the available investment options is one way we can do that."
Inspire's four other biblically responsible investing funds include the Inspire 100 ETF (BIBL), Inspire Global Hope ETF (BLES), Inspire Small Mid Cap Impact ETF (ISMD), and Inspire Corporate Bond Impact ETF (IBD). In less than three years, Inspire's biblical ETFs have gained over $460 million in assets.
This growth has gained them recognition as #8 in percentage growth in assets from 2017-2018 out of 683 firms, according to Financial Advisor Magazine's "RIA Survey and Ranking 2019" report dated, July 2019.
Inspire's Discretionary Assets Under Management (AUM) has grown another 144% so far this year, bringing total assets to $613 million as of September 13, 2019.
For more information on the Inspire International ESG ETF, click here.
This article originally appeared on our sister site, ETF Trends.