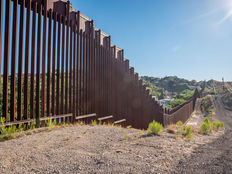 Thematic Investing Channel
The Pentagon has approved a plan to spend an additional $1.5 billion to build 80 more miles of wall along the U.S.-Mexico border, a U.S. defense official confirmed to Fox News on Friday.
According to Fox News, Acting Defense Secretary Patrick Shanahan appropriated the re-allocation of funds, which were originally set aside for support of Afghan security forces and other projects, to assist paying for the wall along the southern border.
Shanahan stated, "Today, I authorized the transfer of $1.5 billion toward the construction of more than 80 miles of border barrier," he said. "The funds were drawn from a variety of sources, including cost savings, programmatic changes, and revised requirements, and therefore will have minimal impact on force readiness."
But the plan to divert Pentagon funding not been met without opposition from Democrats. Some congressional Democrats accused Shanahan of not seeking approval to "reprogram" the funds without congressional authority, while other senior defense officials contested that they did not have to get permission from Congress regardless of ongoing objections from Democratic legislators.
According to Fox news, The move comes after White House Press Secretary Sarah Sanders said Thursday that the president would officially nominate Shanahan to be the next U.S. secretary of defense. The decision to have Shanahan permanently lead the department "is based upon his outstanding service to the country and his demonstrated ability to lead."
"Acting Secretary Shanahan has proven over the last several months that he is beyond qualified to lead the Department of Defense, and he will continue to do so," Sanders said in a statement Thursday.
Infrastructure ETFs have been no stranger to success this year, with funds like iShares Global Infrastructure ETF (IGF A-) and SPDR S&P Global Infrastructure ETF (GII B-) up nearly 13% on the year.
New entries to the Infrastructure fund world like Global X U.S. Infrastructure Development ETF (PAVE) also rallied after President Trump and congressional Democrats agreed to spend $2 trillion to improve America's crumbling infrastructure.
"Politics aside, demand for infrastructure investment is driven by several factors, including demographic trends, depreciation of existing infrastructure, environmental risks, changing preferences and advances in technology," notes Global X. "Accordingly, we explore the near- and long-term catalysts expected to fuel demand for infrastructure modernization in the United States for the foreseeable future."
For more thematic investing ideas, visit our Thematic Investing Channel.