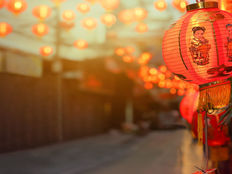 Thematic Investing Channel
Amid intensifying fears regarding the status of the trade relationship between the U.S. and China, stocks in both countries have recently slumped. That includes focused China exchange traded funds. For example, the Global X MSCI China Consumer Discretionary ETF (CHIQ B-) is lower by nearly 6% over the past week.
Still, CHIQ is up nearly 25% year-to-date and the fund could be poised to regain its leadership among China ETFs if trade tensions between the world's two largest economies. CHIQ's underlying index "incorporates all eligible securities as per MSCI's Global Investable Market Index Methodology, including China A, B and H shares, Red chips, P chips and foreign listings, among others," according to Global X.
CHIQ's resurgence is likely to be led by its largest holding, Chinese e-commerce giant Alibaba Group Holding Ltd. (NYSE: BABA). That stock is lower by 2.23% over the past week.
"Despite the recent tumble of Alibaba shares following reignited trade tensions, KeyBanc analyst Hans Chung raised his price target for the stock to $240, up from $210, in a Monday note," reports Evie Liu for Barron's. "That's about 32% higher than the current price. He maintained his Overweight rating on Alibaba shares."
China has been looking to increase internal consumption to reduce the economy's sensitivity to exports and those efforts appear to be paying dividends. While some data points indicate the Chinese economy and consumer spending are slowing, policymakers remain proactive. Alibaba accounts for 9.20% of CHIQ's weight.
"Alibaba is the world's largest e-commerce company, as measured by gross merchandise volume," according to Barron's. "Its technology infrastructure and marketing reach helps merchants around the globe to engage with customers online. Beyond e-commerce, the company has also built a superior ecosystem, including retail, digital media, payment, and cloud computing."
Alibaba controls about two-thirds of China's massive e-commerce market.
"China's internet market has far more users than the U.S. has citizens, underscoring the heft of China's e-commerce market," reports InvestorPlace. "Importantly, internet penetration remains low in China compared to large developed markets, meaning there remains a significant runway for BABA stock and rival Chinese e-commerce players."
For more on thematic ETFs, please visit our Thematic Investing Channel.