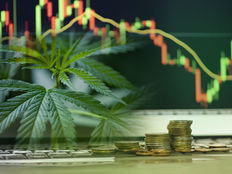 Thematic Investing Channel
On the back of a surprisingly strong earnings report from Cronos Group (CRON.TO)(CRON) on Tuesday, POTX and TOKE could be ready to rebound.
The newly minted Cambria Cannabis ETF (TOKE), an actively managed ETF strategy backed by the Cambria management team, can target new opportunities and potentially some undervalued names in the cannabis space. Additionally, TOKE is the least expensive cannabis ETF available, with an annual fee of just 0.42%, or $42 on a $10,000 investment.
Importantly for POTX and TOKE, one of the cannabis industry's most noted analysts is warming to the group again.
"Cowen's Vivien Azer is still bullish on pot stocks. Citing experience evaluating similar consumer packaged good categories like nicotine and alcohol, she expects further disruption from the cannabis category," reports Connor Smith for Barron's. "She raised her 2020 estimate for Canadian sales to C$5.2 billion (US$3.93 billion) from C$4.8 billion. She sees category growth accelerating, driven by new dispensaries and the introduction of options like vapes, and growth in cannabis use."
Exploring The ETFs
The Cambria Cannabis ETF targets approximately 20 to 50 of the top companies with exposure to the broad cannabis industry based on Cambria's determination as to their level of exposure to the industry. The ETF will typically invest in companies across a broad market capitalization spectrum of micro-, small-, and mid-capitalization stocks.
POTX, the newest of the US-listed marijuana ETFs, tracks a benchmark that holds "companies involved in the legal production, growth and distribution of cannabis and industrial hemp, as well as those involved in providing financial services to the cannabis industry, pharmaceutical applications of cannabis, cannabidiol (i.e., CBD), or other related uses including but not limited to extracts, derivatives or synthetic versions," according to Global X.
Related: A Smoke-Filled Outlook For Marijuana ETFs
"Azer maintained an Outperform rating on Aurora Cannabis (ACB), Tilray, (TLRY) and Canopy Growth (CGC), and a Market Perform rating for Cronos Group (CRON). She wrote that the cannabis 2.0 products could contribute C$2.3 billion in annualized sales by December 2020," according to Barron's.
At various weights, each of those four names are members of TOKE and POTX.
This article originally appeared on ETFTrends.com.
---
Content continues below advertisement