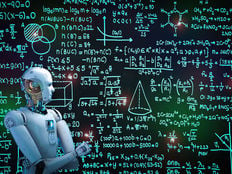 Thematic Investing Channel
Investors are always on the lookout for a long-term growth opportunities, but now more than ever, it seems prescient to look beyond the immediate noise of the socioeconomic and political headlines and find investment opportunities for the long-haul. Emerging technologies may offer that growth, according to some experts.
"We are seeing stronger turns in some traditionally very boring asset classes, you know like TLT and gold. So once that starts to fade off, people are going to be looking for where their future returns are going to be coming from. Just last week though the ECB cut their global growth expectations from 3.2% to 2.9%. That 3% level is kind of a very important mental barrier. That means there's not a lot of growth out there," said Jay Jacobs, head of research and strategy at Global X ETFs, on CNBC.
Jacobs explained how certain areas of robotics may offer significant opportunities for investors, who could look into ETFs like the ARK Industrial Innovation ETF (ARKQ B) or the Global X Robotics & Artificial Intelligence Thematic ETF (BOTZ B).
"So which parts of the economy can continue to grow? We think it's disruptive technologies that are going to take market share from existing processes. That could be robotics, that are now you know, fully automated systems within manufacturing. That could be cloud computing, which is introducing tons of new innovative software into the enterprise space. But there's a lot of growth out there if you look more focused in technology," Jacobs added.
Even experts who are traditionally more skeptical of emerging technologies are in agreement that robotics may offer longer term growth opportunities.
"I am in emerging markets Investor by background, so I've always taken of you that you can invest in a bad neighborhood. Having said that you know if you're seeing global cyclicality headwinds, you're going to see across a number of different ways to play that and express it. But if you look at, think of all the headwinds we had in the third quarter that we're not discussing the highs and lows; semiconductors effectively outperformed. They outperformed the QQQ's, they outperformed the S&P, and that's an environment where you would make an argument that this is one of the most cyclical parts of investing. These are some of the most innovative companies in the world that are exposed to more advanced technologies. And they're not just the DRAM chips and some of the commoditized parts of that belt," said Tim Seymour, founder and chief investment officer of Seymour Asset Management.
This article originally appeared on ETFTrends.com