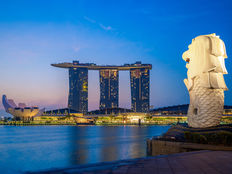 Thematic Investing Channel
The normally calm iShares MSCI Singapore ETF (EWS B+), which tracks the MSCI Singapore Index, has been a laggard this year, rising just 2.62%. Down 10.5% from its 52-week high, the Singapore ETF is in a correction, but some market observers believe Singaporean equities are poised to bounce back.
Singapore's economy churned out its slowest annual growth in 10 years during the second quarter as its manufacturing sector continued to decline, according to preliminary data. Compared to a year ago, gross domestic product (GDP) expanded 0.1 percent in the second quarter, which fell below the 1.1 percent forecast from a Reuters poll and the revised 1.1 percent growth for the period January thru March.
This latest figure represents the slowest year-on-year GDP growth since the second quarter of 2009 when GDP fell by 1.2 percent. Further weakness could show itself as the U.S.-China trade impasse continues.
Rebound May Be Happening
"Singapore stocks may be set for a rebound. While most Asian markets found respite this week from recent market plunges on yet another escalation of the trade war, the city-state's equity index remains oversold, based on technical indicators," reports Bloomberg.
Bolstering the long-term case for EWS and Singaporean assets is a favorable economic competitiveness ranking.
The latest IMD's 2019 World Competitiveness Rankings saw Singapore surpass the United States to claim the title of the world's most competitive economy. According to Switzerland-based business school IMD, Singapore's immigration laws, advanced technological infrastructure, availability of skilled labor and efficient ways to set up new businesses helped it reach the top.
Related: Singapore's Banking Shakeup Could Affect 'EWS' ETF
EWS holds 25 stocks, nearly 48% of which are financial services names. The funds also allocates a third of its combined weight to the industrial and real estate sectors. Plus, stocks in Singapore look oversold.
"The Straits Times Index as of Thursday was in a 17-day stretch where its 14-day relative strength index held below 30, a technical level that some investors read as a sign that shares are oversold," according to Bloomberg. "The last time the measure traded in that territory for such an extended period was August 2015, when investors in Singapore banking stocks were spooked by China's sudden devaluation of the yuan."
---
Content continues below advertisement