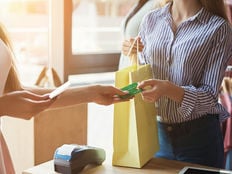 Thematic Investing Channel
The SPDR S&P Retail ETF (XRT B+) is lower by 3.51% year-to-date while some ETFs with exposure to online retail are surging, but some traders are making bullish, short-term options bets on the battered retail fund.
XRT seeks to provide exposure the retail segment of the S&P TMI, which comprises the following sub-industries: Apparel Retail, Automotive Retail, Computer & Electronic Retail, Department Stores, Drug Retail, Food Retailers, General Merchandise Stores, Hypermarkets & Super Centers, Internet & Direct Marketing Retail, and Specialty Stores.
"The retail rout could soon be over," reports CNBC. "That's at least according to the options market, which saw an uptick in bullish activity in the SPDR S&P Retail ETF on Wednesday as traders bet the market's worst-performing sector this year could turn around."
A Potential Blow To Consumer Sector-Related ETFs
In light of President Donald Trump's intentions to impose additional tariffs on Chinese goods, the latest round of trade barriers will take effect on a number of consumer products, potentially dealing a blow to consumer sector-related ETFs.
Still, some traders see the potential for XRT to rally if trade tensions ebb. Look at some of the options activity that took place in the fund on Wednesday.
"The most active call options, or bullish traders, were purchases of the $40 strike calls expiring on Sept. 6," reports CNBC. "One trader bought 20,000 of those calls for 25 cents each in a bet that the XRT could rise 2% by the end of next week, a move that was playing out in early Thursday trading as the ETF climbed about 1%."
Recent earnings from some marquee brick-and-mortar retailers could be buoying investor sentiment toward the group while market participants bet that the Federal Reserve will act swiftly in the event the U.S. economy weakens.
Related: Retail Sector Rallies After Challenging Month
"And, after better-than-expected earnings reports from popular retailers including Target (TGT), Home Depot (HD), and Costco (COST), the action might reflect investors' hopes that the group is due for a bounce," according to CNBC.
XRT has not closed above its 200-day moving average since late 2018 and currently resides nearly 8% below that line.
This article originally appeared on ETFTrends.com.
---
Content continues below advertisement