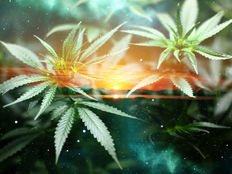 Thematic Investing Channel
Even amid some recently favorable headlines, including passage of the SAFE Act in the House of Representatives and news that more states are expected to have marijuana propositions on 2020 ballots, the ETFMG Alternative Harvest ETF (MJ B-) and other cannabis exchange traded funds have been absorbing significant punishment.
For example, MJ, the oldest and largest pot ETF, is lower by nearly 18% over just the past month and is more than 53% removed from its 52-week high.
MJ seeks to provide investment results that, before fees and expenses, correspond generally to the total return performance of the Prime Alternative Harvest Index. The index is designed to measure the performance of companies within the cannabis ecosystem benefitting from global medicinal and recreational cannabis legalization initiatives.
Previously, investors were willing to pay up for cannabis growth stories, ignoring the lack of probability in the industry. It's a different ballgame these days as many marijuana stocks, even after recent declines, appear expensive and many still aren't close to profitability.
BMO Capital Markets analyst Tamy Chen "her forecasts for sales and cash flow across the industry this morning, after concluding that most producers will continue to suffer negative cash flow next year as they deal with too few stores and too late a lift-off in new products such as vapes and edibles," reports Bill Alpert for Barron's.
Other Ideas
For long-term investors willing to be patient and play a rebound in cannabis stocks, some new ETFs make sense. The Cambria Cannabis ETF (TOKE ) is actively managed, meaning the Cambria management team can actively seek new opportunities and potentially some undervalued names in the space.
Additionally, TOKE is the least expensive cannabis ETF with an annual fee of just 0.42%, or $42 on a $10,000 investment. The Global X Cannabis ETF (POTX ) is the newest addition to the cannabis universe. That passively managed product charges 0.50% per year.
POTX's underlying index holds "companies involved in the legal production, growth and distribution of cannabis and industrial hemp, as well as those involved in providing financial services to the cannabis industry, pharmaceutical applications of cannabis, cannabidiol (i.e., CBD), or other related uses including but not limited to extracts, derivatives or synthetic versions," according to Global X.
Related: Get Ready, Another Cannabis ETF Lights Up
Still, investors will have to contend with some rough outlooks over the near-term for cannabis ETFs and those funds' components.
"The industry will probably report a 20% sequential drop in revenue for the September quarter, Chen figures, from her study of sales volumes recorded by Canada's federal health agency," according to Barron's.
This article originally appeared on ETFTrends.com.
---
Content continues below advertisement