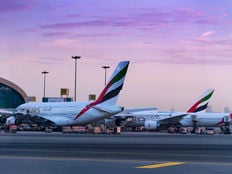 Thematic Investing Channel
The U.S. Global Jets ETF (JETS C+), the only ETF dedicated to airline stocks, is up just 5.21% year-to-date, but the fund appears poised to rally in the fourth quarter.
The airline industry has enjoyed 10 consecutive years of profitability with net profits estimated at $35.5 billion for 2019, according to the International Air Transport Association. The profit growth comes despite the grounding of the Boeing 737, which accounted for less than 5% of daily flights in the U.S.
While there are favorable catalysts on the side of airlines that can positively affect the stocks over the near-term, some investors remain concern about the industry's often volatile history.
"There has been plenty of reason for concern. Multiple bankruptcies, oil- price shocks, labor strife, and too rapid capacity growth are high on the list," reports Al Root for Barron's. "It wasn't so long ago that Warren Buffett said the best way to become a millionaire was to start out a billionaire and buy an airline."
Still, there are some positive factors to consider. Ancillary fees are another important and growing revenue stream for airlines. Specifically, these ancillary revenue cover additional charges beyond the airplane tickets, including additional baggage fees, change fees, in-flight wifi access, on-board food and services, car services and hotel booking, among others.
That Was Then…
Indeed, the airline industry has a turbulent history, but some of those factors are changing for the better, including profitability, cash flow and reduced correlations to oil prices.
"Oil prices don't really matter for the sector," according to Barron's. "That may surprise investors. Energy prices are certainly important. The four major U.S. airlines have spent more than $140 billion on jet fuel over the past five years, about 20% of sales. That's a lot, but everyone pays roughly the same amount for fuel, so as long as prices are stable, airfares adjust and no airline has a competitive advantage—or disadvantage."
The airline industry is seeing greater opportunity to expand in international markets, especially in the developing economies where they may experience greater tourism, expansion of route networks and new aircraft orders. Air passenger demand is quickly rising as a growing middle-income class exhibits increased discretionary spending.
Related: An Airline ETF Could Help Investors Fly Through Turbulence
Over the past decade, airline management teams have done a good job of managing capacity, which if it grows too fast, can hinder profitability.
"Since the end of the financial crisis, growth in total airline capacity has lagged behind the increase in consumer spending 80% of the time. Modern airline management teams, it appears, are more concerned with margins than with market share," according to Barron's.
This article originally appeared on ETFTrends.com
---
Content continues below advertisement