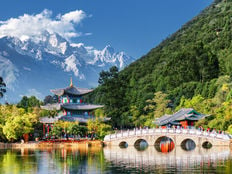 Thematic Investing Channel
As trade tensions escalated last month, the Global X MSCI China Consumer Discretionary ETF (CHIQ B-) pulled back, but the ETF is surging in September, up more than 11%, even as some investors fret about the strength of China's domestic economy.
CHIQ's underlying index "incorporates all eligible securities as per MSCI's Global Investable Market Index Methodology, including China A, B, and H shares, Red chips, P chips, and foreign listings, among others," according to Global X.
Some recent data points have shown signs of softness in the world's second-largest economy, but Beijing is also taking steps to prop up consumption and the local economy. China has been looking to increase internal consumption to reduce the economy's sensitivity to exports, and those efforts appear to be paying dividends. While some data points indicate the Chinese economy and consumer spending are slowing, policymakers remain proactive.
"Jonathan Brodsky, whose Cedar Street Asset Management specializes in international investments, said the bounce in US-listed China-focused stocks reflects the potential progress on trade talks, and a growing awareness of China's economic policy tools to stimulate the economy," reports Steven Sears for Barron's.
Captivating Consumer Thesis
When it comes to sector ETFs, many investors solely focus on domestic offerings, but there are other ways to tap sector-level opportunities, including China ETFs. Investors considering China sector ETFs should note that there is likely to be dispersion among the various sectors, as is the case with domestic sector ETFs.
Still, CHIQ's price action suggests that although the ETF's components have a heavy domestic focus, the fund stands to benefit from the U.S. and China resolving trade issues.
Related: Don't Dismiss This China ETF Just Yet
"The outperformance of these Chinese stocks sends an important message at a time when popular sentiment suggests that China will suffer more if the trade war fails to resolve," according to Barron's. "The stock data is admittedly not extensive, but the outperformance is difficult to ignore. At minimum, the stocks seem to be immune to President Donald Trump's tweets that the trade war is bad for China. So far, these stocks tell another story."
CHIQ resides less than 5% below its 52-week high.
This article orignally appeared on ETFTrends.com.
---
Content continues below advertisement