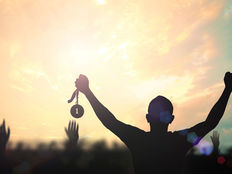 Thematic Investing Channel
The Communication Services Select Sector SPDR Fund (XLC), the first and largest ETF targeting the communication services sector, is up nearly 28% year-to-date, but XLC has the tools to rally again in the new year.
XLC follows the Communication Services Select Sector Index and "seeks to provide precise exposure to companies from the media, retailing, and software & services industries in the U.S.," according to State Street.
The fund has multiple tailwinds that could make it a winner again in 2020.
"The communication services sector and, more to the point, XLC, can continue generating upside in 2020 for multiple reasons. XLC is a cap-weighted fund, meaning the largest components by market value in the underlying sector take on the biggest weights in the ETF. Translation: Facebook (FB) and Alphabet (GOOGL) combine for over 43% of XLC's roster," reports InvestorPlace.
Streaming, Too
In addition to its weight to those internet giants, XLC is an ideal play on the booming streaming entertainment market.
"*Netflix (NFLX)* and Disney (DIS) combine for more than 9% of XLC's weight. Comcast Corporation (CMCSA), which is also a streaming contender, is the fund's tenth-largest component at 4.11%," notes InvestorPlace. "Issuers haven't yet constructed a dedicated streaming ETF, but XLC and rival communication services funds are fairly close."
Last month, Disney's opening subscribership for its streaming services was the stuff of fairy tales as it signed up 10 million customers within its first day of an international launch. That number has since more than double to over 20 million.
Importantly, there's more to the XLC story and it's compelling stuff to consider.
"The 'more' includes the ongoing growth of video gaming, including e-sports segments. XLC allocates about 18% of its weight to video game publishers and that doesn't include its exposure to new industry entrants, such as Alphabet. Nor does it include the impact of Star Wars video games and other Disney licenses on that stock," notes InvestorPlace.
Related: Making the Case for Investing in Internet Giants
Investors have added $2.77 billion to XLC this year.
XLC rivals include the Vanguard Communication Services (VOX A+) and the Fidelity MSCI Communication Services ETF (FCOM ).
This article originally appeared on ETFTrends.com.
---
Content continues below advertisement