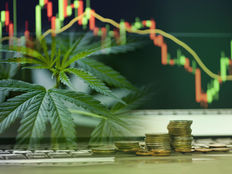 Thematic Investing Channel
Based on the second quarter 2019 financial results report, Tilray, Inc (TLRY) is reporting a revenue rise of 371.1% to $45 million, compared to the prior year's period. This is terrific news for the pioneering cannabis research, cultivation, production, and distribution company.
"We are pleased with our second-quarter results and strong business momentum," stated Brendan Kennedy, Tilray President and CEO. "Our team has executed against our plan, with adult-use revenue nearly doubling in the second quarter compared to the first quarter and gross margin increasing sequentially for the second quarter in a row."
Kennedy continued, "As we continue to grow, we remain focused on our long-term strategic objectives and deploying capital to maximize stockholder value."
The substantial increase was driven by the Manitoba Harvest acquisition, as well as the legalization of the Canadian adult-use market. Additionally, the growth in international medical markets, particularly in Europe, added further to the rise in revenue.
TLRY's Profits and Losses
Total kilogram equivalents sold more than tripled from to 1,514 kg in the prior-year period to 5,588 kg. This comes after the average net selling price per gram decreased to $4.61 compared to $6.38 in the previous year period.
The decrease came as a result of a reduced mix of higher-priced extract products, and a higher combination of adult-use revenue, which are at lower prices per gram when compared to other channels.
The somewhat minor gross margins increase from 23% in the prior quarter to 27% shows how the increased costs incurred with the ramping up of cultivation facilities in Canada and Portugal, in addition to acquiring third party supply, are having a significant impact. This is especially notable when looking at the 43% gross margin in Q2 of 2018.
Additionally, food product margins were also impacted by a $1.4 million non-cast charge related to purchase accounting for the fair value of inventory. Were one to take out this purchase accounting charge, the gross margin for the quarter would sit at 30%.
In terms of losses, net loss for the quarter was $35.1 million or $0.36 per share. This comes in contrast to a loss of $12.8 million or $0.17 per share for the prior-year period. The adjusted net loss for Q2 was $31.2 million or $0.32 per share. Adjusted EBITDA was a loss of $17.9 million compared to a loss of $4.7 million in the prior year.
This increased net loss and EBITDA declines can be attributed to the increase in operating expenses related to growth initiatives, interest expense from TLRY's convertible notes, the addition of Manitoba Harvest and Natura, as well as the expansion of international operations.
---
Content continues below advertisement
As it stands, here's a look at the top 4 ETFs with the most TLRY exposure.
1. ETFMG Alternative Harvest ETF (MJ B-) – 7.82 %
The ETFMG Alternative Harvest ETF tracks a market-cap-weighted index of global firms involved in the cultivation, production, marketing, and distribution of cannabis and tobacco products.
2. The Cannabis ETF (THCX ) – 7.05%
The Cannabis ETF tracks a market cap-selected and weighted index of North American cannabis companies.
3. Cambria Cannabis ETF (TOKE ) – 3.88%
The Cambria Cannabis ETF is an actively-managed portfolio of global companies associated with cannabis.
4. AdvisorShares Pure Cannabis ETF (YOLO B-) – 3.53%
The AdvisorShares Pur Cannabis ETF is an actively managed ETF seeking long-term capital appreciation by investing in domestic and foreign cannabis equities.
For more market trends, visit ETFdb.