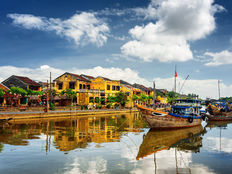 Thematic Investing Channel
Trade wars don't often produce winners. Just ask the U.S. and China. Long engaged in an epic trade spat, the world's two largest economies are seeing economic data and their equity markets being pinched by the trade war.
That trade war has permeated plenty of ETFs tracking developing economies, including the VanEck Vectors Vietnam ETF (VNM C+), but Vietnam is widely viewed as a winner in the US/China trade tiff.
VNM, which debuted in August 2009, follows the MVIS Vietnam Index. That index "is comprised of securities of publicly traded companies that are incorporated in Vietnam or that are incorporated outside of Vietnam but have at least 50% of their revenues/related assets in Vietnam," according to VanEck.
"The U.S.-China trade war is clearly putting a dent in China's economy, but it seems to be helping one of its neighbors: Vietnam," reports Avi Salzman for Barron's.
While Vietnam's equity market remains small and VNM reflects that status with high concentration to the financial services and real estate sectors, the economy there is evolving. While Vietnam is currently classified as a frontier market, its economic growth has long outpaced that of the average emerging market.
Seeking Opportunity In Vietnam
"While the Southeast Asian country has built up a strong manufacturing base in the past decade, particularly for clothing, it has increasingly been drawing technology companies that rely on factories there to produce high-tech goods. Samsung Electronics (ticker: KR:005930), LG, Olympus (JP:7733), and others have set up production in Vietnam. And escalating tariffs and wages in China are sparking even more interest according to Barron's.
The longer the trade war lingers, fears of a non-deal will rise triggering companies to shift manufacturing from China to other countries, with Vietnam being eyed as the golden child.
Related: Vietnam ETF: Opportunity Knocks
The Vietnamese government has also implemented reforms to attract investments. For instance, the country has cut the corporate tax rate to 22% from 25% and set a goal to train 2 million people in vocational schools.
"Vietnam's economy has been growing quickly for more than a decade, but the last couple of years have been particularly promising," reports Barron's. "Gross domestic product increased 7% in 2018, a faster pace than in 2017. And in the second quarter of this year, GDP was up 6.7%, besting China's 6.2% growth."
This article originally appeared on ETFTrends.com.
---
Content continues below advertisement