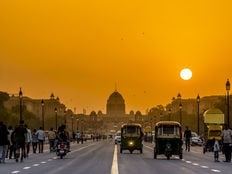 Thematic Investing Channel
Indian equities and ETFs, including the WisdomTree India Earnings ETF (EPI C+), were recently boosted by a surprise national cut, but the effects of that move could have longer-ranging, positive impacts.
Analysts project Indian corporate earnings to expand 16% in 2019, the fastest clip in the region. Nevertheless, the fast pace may be partly attributed to the poor results a year ago for banks that were burdened by nonperforming loans.
Bolstering the case for Indian equities, Finance Minister Nirmala Sitharaman said taxes on domestic companies will be cut to 22% from 30%. The effective new rate will be 25.2% after all additional levies and will only be applicable for companies.
"This step reflects policymaking in India that responds fast to changing domestic and international environments," said WisdomTree in a recent note. "Back-to-back reforms that were focused on streamlining taxes caused stress for manufacturers and distributors, and weakening credit growth has affected consumer spending. This has been reflected in weakening sales of automobiles and consumer goods. Thus, it was necessary for the government to provide a fiscal boost in addition to the monetary boost provided by the Reserve Bank of India (RBI) in August."
Evaluating EPI
India has been enacting a number of economic reforms to further strengthen growth, including announcements to boost consumer demand, bolster imports and attract investments into the country.
"Beyond domestic reasons, the tax cut was made to help incentivize global manufacturing companies to hedge against the effects of the volatile U.S.-China trade dispute," according to WisdomTree. "Early this year, Apple announced that it was shifting some of its manufacturing from China to India, and other companies are also shopping around."
Market sentiment also strengthened on a boost in India's services and manufacturing activity, which both gained momentum earlier this year, driven by rising new work orders that fueled a faster increase in output and job creation.
Related: India ETFs Rally After a Surprise Corporate Tax Cut
"Breaking down India's tax collection by sector, the Energy and Financials sectors are among the larger tax-paying sectors, and therefore companies in those sectors stand to benefit the most," notes WisdomTree. "This is a shot in the arm for public sector banks that have been reeling from nonperforming assets. This may also help the Energy sector, leading to potentially higher industrial utilization and increased investment activity."
EPI allocates over 44% of its combined weight to financial service and energy stocks.
This article originally appeared on ETFTrends.com
---
Content continues below advertisement