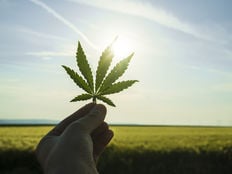 Thematic Investing Channel
One advantage of active management is that a fund's managers can exploit opportunities in beaten-down markets. The team behind the AdvisorShares Pure Cannabis ETF (YOLO B-), the first actively managed cannabis ETF in the U.S., could be looking to do just that after several months of declines by marijuana stocks.
YOLO seeks long-term capital appreciation by investing in both domestic and foreign cannabis equity securities. YOLO is designed to fully-invest for pure cannabis exposure under the guidance of a deeply experienced portfolio management team navigating the emerging cannabis marketplace.
"While some individual securities were showing promising revenue growth and positive earnings, most cannabis stocks were down in August, continuing their summer months struggle," said Yolo manager Dan Ahrens in a recent note. "However, I feel it's time for it to come to an end. As I'm writing this commentary in early September, we're already seeing a strong rebound. And, at the current lowered prices and more reasonable valuations, I believe we have good reason to be optimistic."
Looking For Opportunities
YOLO's portfolio manager believes that today's new era can be viewed as akin to post-Prohibition, initiating a growing acknowledgment and understanding of cannabis and its uses among a mainstream audience. The industries that constitute the multi-billion dollar cannabis universe represent a new frontier, where proper caution and due diligence must be exercised surrounding its regulations and risks, in seeking attractive long-term cannabis investment opportunities.
"During August, like July, YOLO continued to add to its U.S. cannabis exposure, increasing a number of existing U.S. positions while decreasing overall Canadian holdings," said Ahrens. "While still growing on a state by state basis, the U.S. cannabis market is many times that of Canada and U.S. multi-state operators (MSO's) generally trade at more reasonable valuations than their Canadian counterparts. Also, much of Canada has suffered from over-supply while U.S. operators are seeing terrific growth and earnings."
Related: YOLO Sponsors Eye Another Cannabis ETF
YOLO has among the highest, if not the highest U.S. exposure among all New York-listed cannabis ETFs. That's a relevant point because most industry analysts believe the U.S., not Canada, is the future growth driver of legal marijuana sales.
"In a fast-paced, rapidly changing sector like cannabis, don't blindly follow a market-cap-weighted index. To me, it just seems dumb. In YOLO, we actively choose to underweight (or avoid completely) the largest Canadian cultivation companies that some indexes have as their largest positions," said Ahrens.
This article originally appeared on ETFTrends.com
---
Content continues below advertisement