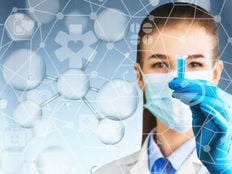 Thematic Investing Channel
The Global X Genomics & Biotechnology ETF (GNOM B) debuted earlier this year, making it one of the newest additions to the biotech ETFs fray, but despite its rookie status, GNOM is a fund with ample potential for risk-tolerant, long-term investors.
GNOM tracks the Solactive Genomics Index and "seeks to invest in companies that potentially stand to benefit from further advances in the field of genomic science, such as companies involved in gene editing, genomic sequencing, genetic medicine/therapy, computational genomics, and biotechnology," according to Global X.
There is significant growth to be had in the global genomics market.
"In fact, going by a MarketsandMarkets report, the $18.9-billion global genomics market is expected to reach $35.7 billion by 2024 at a CAGR of 13.5%. The report further states that North America accounted for the largest share of the global genomics market in 2018," according to Zacks Investment Research.
Major Thematic Players In Genomics
While GNOM is a thematic ETF, it's not a small-cap fund. The average market capitalization of its components is $8.66 billion, underscoring the point that there are some well-known players involved in the genomics space.
"Biogen and Invitae, two leading biotechnology and genomics companies, recently announced the availability of a rapid results genetic testing program for spinal muscular atrophy (SMA)," said Global X in a recent note. "The test will reduce the definitive diagnosis from 21 to just four days, at no charge to individuals in the U.S."
Although it's just one niche, the SMA market is potentially lucrative for some GNOM components over the long-term.
"SMA is often a life-threatening disease, characterized by loss of motor neurons in the spinal cord and lower brain stem," according to Global X. "As it progresses, the disease can cause severe and progressive muscle atrophy and weakness. Faster diagnostics will allow for earlier intervention, treatment and, potentially, better medical outcomes for patients with SMA."
Related: Inside the Allure of a Genomics ETF
DNA sequencing is another example of a massive market for GNOM.
The DNA sequencing market is experiencing significant growth, with estimates expecting the market to grow from $6.2 billion in 2017 to $25.5 billion by 2025 – representing a compound annual growth rate of 19%. As a result of significant technological advances in the field, it's estimated that anyone with $100 can now sequence their DNA, down from the $100 million it was estimated to cost in 2001.
This article originally appeared on ETFTrends.com.
---
Content continues below advertisement