Volatility Resource Channel
Low volatility strategies have been on the radar at VettaFi recently, especially following last month's bank crisis. The bank crisis may still be with us, too, if you ask Jamie Dimon. The immediate wave of banking contagion may have subsided, but this year suggests a lot more volatility to come, inviting advisors and investors to consider a low-vol ETF like the (LVHD A) which recently hit a notable buy signal.
LVHD, which hit $1 billion in AUM earlier this year and hasn't looked back since, sitting at $1.1 billion as of the start of April, also sat above both its 200-Day Simple Moving Average (SMA) and its 50-Day SMA as of market close on Thursday, priced at $37.62, a key buy signal that it hadn't shown since January when it began its strong price momentum. With some distance to go to reach those initial heights, it may be reflecting regained momentum that's worth tracking.
See more: Franklin Templeton's Mann on 2023, Smart Beta, Income
LVHD charges just 27 basis points (bps) to track the QS Low Volatility High Dividend Index, and, approaching eight years of operation, it's performed well over the last month according to YCharts. LVHD tracks 50 to 100 stocks selected and weighted for profitability, high dividends, and low price volatility, looking for what it calls "stable yield" via dividend sustainability, assessed based on fundamental and technical factors.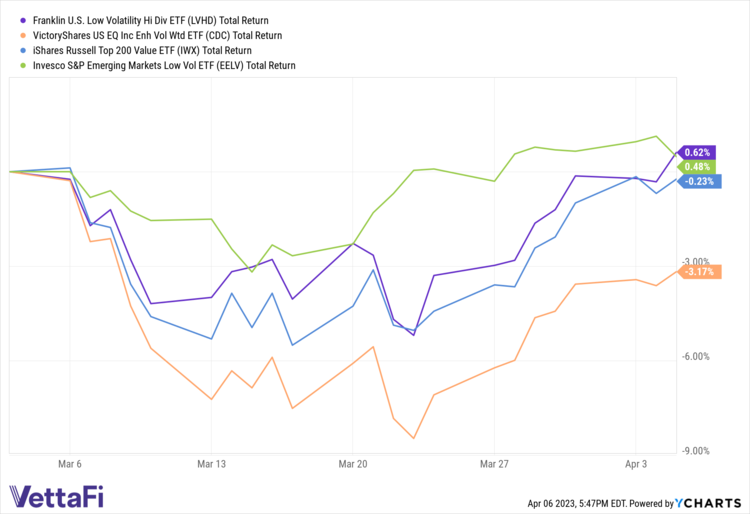 LVHD has added $124 million over the last month in net inflows, suggesting notable momentum and investor attention. In terms of dividends, it has largely made good on its stated mission, with an annual dividend yield of 3.26% and outdoing the ETF Database Category Average and the Facset Segment Average annual dividend yields, too. Finally, LVHD has seen just 14.3% volatility over the last 50 days compared to its peer group ETF Database category.
U.S. equities are a tricky place to be right now, that's for sure, but there are ways around that volatility in a low-vol ETF. LVHD is showing some signs that it's worth watching in the space, and with the Fed's fight against inflation and the bank crisis just two of many possible risk factors, it may be a strategy worth keeping an eye on.
For more news, information, and analysis, visit the Volatility Resource Channel.
VettaFi is an independent publisher and takes responsibility for our edit staff, research, and postings. Franklin Templeton is not affiliated with VettaFi and was not involved in drafting this article. The opinions and forecasts expressed are solely those of VettaFi and may not actually come to pass. Information on this site should not be used or construed as an offer to sell, a solicitation of an offer to buy, or a recommendation for any product.
---
Content continues below advertisement