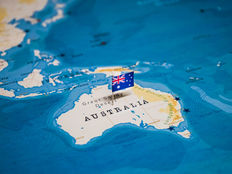 Volatility Resource Channel
Investors are looking abroad right now to escape overvalued U.S. equities and the looming threat of a Fed-induced recession. Emerging markets are gathering steam driven by China's reopening, but there is one nation that offers both a developed economy and significant benefit from China's reopening: Australia. investors interested in the continental nation may want to check out an Australia ETF like the Franklin FTSE Australia ETF (FLAU B+) which recently flashed a notable buy signal.
Australia is set to benefit from rebounding Chinese demand for its copious resources, as it reopens and aims to reignite its economic growth in the new year. China aims to drive that economic growth via infrastructure spending, which may well rely heavily on those same resources.
The country also has lower headline inflation compared to the U.S. and many nations in Europe, with the latter nations facing the ongoing energy reverberations from Russia's invasion of Ukraine. Despite a tough 2022, Australia saw consumer sentiment rise so far in January as the Reserve Bank of Australia did not hike rates. While still in a tougher place than last year, it could augur an upswing.
FLAU itself, meanwhile, encountered a Golden Crossover this week. Its 50-Day Simple Moving Average (SMA) rose above its 200-Day SMA, suggesting that at least based on that technical indicator investors are also getting excited by the possibilities.
The Australia ETF tracks the FTSE Australia RIC Capped Index and charges just nine basis points for its exposure to small and mid-size firms in Australia, with its fee lower than a number of its major rivals. FLAU has outperformed its ETF Database Category Average over the last month, with its 7.2% return 200 basis points clear of the average return. The strategy has also added $3.7 million in net inflows over the last three months.
Investors are certainly looking away from the U.S. for significant slices of their equities exposures right now. While 2023 may be a volatile year in its own right, Australia could be well poised to benefit from growth reigniting not only in China but also in emerging markets in the region, with FLAU an Australia ETF to watch in the weeks and months ahead.
For more news, information, and analysis, visit the Volatility Resource Channel.
VettaFi is an independent publisher and takes responsibility for our edit staff, research, and postings. Franklin Templeton is not affiliated with VettaFi and was not involved in drafting this article. The opinions and forecasts expressed are solely those of VettaFi and may not actually come to pass. Information on this site should not be used or construed as an offer to sell, a solicitation of an offer to buy, or a recommendation for any product.