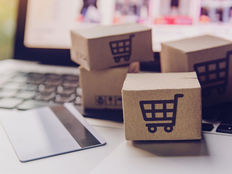 Volatility Resource Channel
Rumors of a dip in holiday spending may have been greatly exaggerated — whereas some were concerned that inflation would have taken a bite out of holiday consumer spending last month, instead shoppers broke records with $211.7 billion in online buys. That, and recent indicators regarding consumer sentiment may add momentum in the new year for a disruptive commerce ETF like the (BUYZ C).
December's consumer spending marked a bump of 3.5% compared to consumer spending in December 2021, while the U.S. index of consumer sentiment reached 64.9 according to YCharts., up from 59.7 the month prior. Retail e-commerce revenue has increased from $458.8 billion in 2017 to $904.9 billion total last year, with an estimated total spend of $1.7 trillion by 2027 according to Statista.
While the Fed's decisions regarding rate hikes and a "higher for longer" regime will have significant bearing on whether the economy will face a recession this year, some notable names are suggesting the U.S. economy could avoid a contraction. Megabank Goldman Sachs has itself claimed the U.S. will narrowly avoid a recession. The situation now looks more like a "soft landing" some in the markets had called for last year, instead.
Taken together, those factors could boost the case for a disruptive commerce ETF like BUYZ. The strategy is actively managed and charges just 50 basis points investing in companies poised to disrupt traditional commerce, like online marketplaces, electronic payments, and the sharing economy. Those companies include payment companies as well as logistics and delivery companies, combining a healthy weight to Amazon (AMZN) with other names like MercadoLibre (MELI).
BUYZ has outperformed its ETF Database Category Average and Factset Segment Average over the last three months, returning 12% compared to 7.5% and 4% respectively. The strategy is also approaching its three-year mark on February 25th next month, a key milestone for ETFs.
Much remains to be decided for the fate of the economy this year, but consumer spending ended 2022 strong and could keep some of that momentum in 2023. For investors eyeing consumer spending as an investment area to consider, BUYZ may be a strategy to consider.
For more news, information, and analysis, visit the Volatility Resource Channel.
VettaFi is an independent publisher and takes responsibility for our edit staff, research, and postings. Franklin Templeton is not affiliated with VettaFi and was not involved in drafting this article. The opinions and forecasts expressed are solely those of VettaFi and may not actually come to pass. Information on this site should not be used or construed as an offer to sell, a solicitation of an offer to buy, or a recommendation for any product.