Volatility Resource Channel
Fixed income is one of the hottest asset classes right now, but with so many different types of bonds and debt securities out there, it can get overwhelming creating a pro and con list for each asset. That's why it may make sense to consider the benefits of a total return bond ETF that actively invests across the fixed income landscape like the Western Asset Total Return ETF (WBND B-).
Markets may be pricing in rate cuts this year, but as inflation continues to remain stubbornly high, investors and advisors should be prepared for the "higher for longer" interest rate scenario. While there's some distance from where rates started last year, the environment may be favorable for visiting particular areas in fixed income for the remainder of this year.
See more: Core Dividend ETF DIVI Sees 9,900% Engagement Jump
For Franklin Templeton's fixed income team, the fixed income slices to watch include attractive opportunities in agency MBS and high-quality tranches of sectors like AAA-rated CLOs — two areas that are part of WBND's total return strategy.
Agency MBS are set to benefit from a drop in so-called "prepayment risk," in which, for example, homeowners refinance and the mortgage is paid back sooner than expected, as higher rates have turned homeowners off of refinancing. Per Franklin Templeton's recent fixed income insight, its fixed income team believes that CLOs may continue to marginally outperform other credit sectors on a total return basis thanks to their floating-rate nature, meanwhile.
As such, a total return bond ETF like WBND which actively invests across that spectrum of fixed income offerings could represent an intriguing strategy to watch. WBND has no geographic or credit rating limits to its investment approach, though it does have limits on positions like nonagency MBS and ABS (20%), CDOs (10%), unsecured junior debt (20%), high yield (30%), debt from non-U.S. issuers (30%), and non-USD-denominated debt (25%).
---
Content continues below advertisement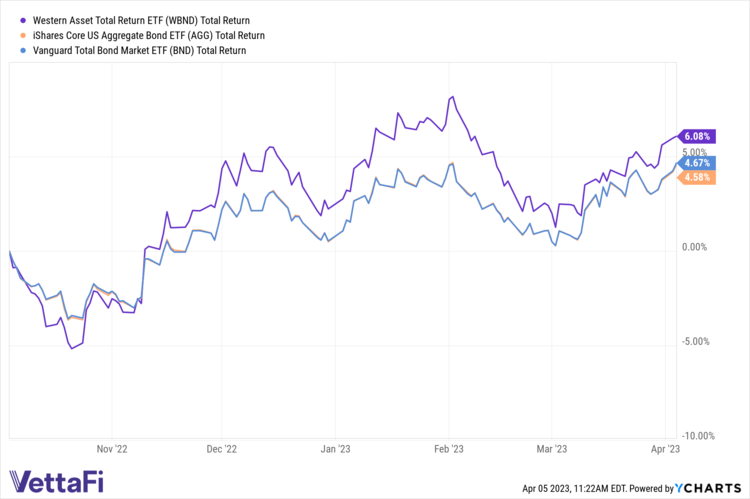 Charging 45 basis points, WBND does tend to have a maturity range for its holdings of two to nine years, combining a bottom-up and a top-down approach to assess potential holdings. WBND has outperformed some notable fixed income ETFs over the last six months according to YCharts, and though this year offers some real uncertainty, it could present an appealing way to invest across fixed income with an experienced, active management approach.
For more news, information, and analysis, visit the Volatility Resource Channel.
VettaFi is an independent publisher and takes responsibility for our edit staff, research, and postings. Franklin Templeton is not affiliated with VettaFi and was not involved in drafting this article. The opinions and forecasts expressed are solely those of VettaFi and may not actually come to pass. Information on this site should not be used or construed as an offer to sell, a solicitation of an offer to buy, or a recommendation for any product.