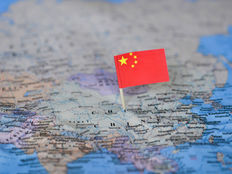 Volatility Resource Channel
If the fall saw investors panic about China possibly being "uninvestable" due to political concerns, those worries seem to have evaporated based on how hot China ETFs have been to start the year. China region ETFs have seen the second-strongest one-month performance across all equity ETF categories on YCharts, returning 6.7% in that time compared to – 17.5% over one year. As such, investors may want to consider a low-fee China ETF like the Franklin FTSE China ETF (FLCH A-).
What's driving the China rebound? Among the factors at play is following the nation's failure to meet its growth targets last year, as well as its broader that had stifled consumer spending. Those are just some of the factors that have led Morgan Stanley to join Goldman Sachs this week in making a bullish call on Chinese stocks, with the former firm seeing China stocks .
While China's may face a somewhat bumpy ride due to COVID cases spiking in the key nation, its economic plan, which includes aid for its struggling real estate sector, and the fact that cases appear to be .
That's where FLCH comes in. The low fee China ETF charges just 19 basis points, 38 points fewer than charged by the iShares MSCI China ETF (MCHI A). FLCH has outperformed both its ETF Database Category Average and its Factset Segment Average over one month and three months, returning 8.4% and 22.8% respectively in those periods.
FLCH's $20.8 price, meanwhile, has sat above both its 50 and 200-day Simple Moving Averages since last week, key indicators that boost the case for its momentum. The strategy tracks the FTSE China RIC Capped Index.
China ETFs have long played a big role in investors' portfolios, and now may be the time for investors to revisit the strategies amid uncertainty for U.S. equities. For those looking at China ETF offerings, FLCH may be a strategy to watch in the weeks to come.
For more news, information, and analysis, visit the .
VettaFi is an independent publisher and takes responsibility for our edit staff, research, and postings. Franklin Templeton is not affiliated with VettaFi and was not involved in drafting this article. The opinions and forecasts expressed are solely those of VettaFi and may not actually come to pass. Information on this site should not be used or construed as an offer to sell, a solicitation of an offer to buy, or a recommendation for any product.