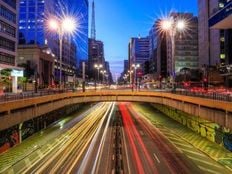 Volatility Resource Channel
The latest inflation news in the U.S. may have investors looking elsewhere, with international and emerging markets equities an early bright spot in 2023. One area that has picked up interest in the foreign equities space has been Latin America, poised to feed a reopening Chinese economy with commodities. That may position a Latin America ETF like the (FLLA ) for a good year, approaching a key buy signal this week.
FLLA rose above its 200-Day Simple Moving Average (SMA) early on Tuesday, and though it dipped back below it in the afternoon, the ETF's price is nearing a golden crossover in which its 50-Day SMA exceeds its 200-Day SMA, currently set at $20.64 and $20.84 respectively.
That could be partly due to the big boost that commodities, a major driver of Latin American economies, is set to receive not only from China's reopening but from continued post-pandemic economic reignition overall. According to Goldman Sachs, oil stands to benefit in particular, with the ongoing return of global travel also a notable booster.
FLLA holds mining, and petroleum companies among some of its highest-weighted stocks, with Petroleo Brasileiro (PETR) weighted at 4.8% and 3.5% for its preferred and regular stock, respectively. Tracking the FTSE Latin America RIC Capped Index, the strategy charges 19 basis points for its exposures to large and mid-size companies in Brazil, Chile, Colombia, Mexico, and Peru.
The Latin America ETF has returned 6.2% YTD and has added $2 million in net inflows over the last five days and also has managed a solid dividend yield on top of those numbers, with an annual dividend yield of nearly 3%, according to VettaFi. With its relatively lower fee, it also stands out as an appealing option compared to some of the more expensive regionally-indexed strategies on the market.
Emerging markets equities have started the year well as an alternative to the overvalued and choppy U.S. equities market. With the Fed still looming on top of sticky inflation, a Latin America ETF like FLLA may be worth watching to see if it can indeed hit that key technical indicator.
For more news, information, and analysis, visit the Volatility Resource Channel.
VettaFi is an independent publisher and takes responsibility for our edit staff, research, and postings. Franklin Templeton is not affiliated with VettaFi and was not involved in drafting this article. The opinions and forecasts expressed are solely those of VettaFi and may not actually come to pass. Information on this site should not be used or construed as an offer to sell, a solicitation of an offer to buy, or a recommendation for any product.