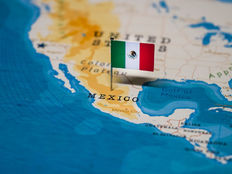 Volatility Resource Channel
Geopolitics was one of 2022's biggest trends for markets, from the headline news of Russia's invasion of Ukraine to investor panics regarding China's zero-COVID policy, the Chinese Communist Party, and the growing U.S.-China trade war. With global logistics challenges also lingering from the pandemic's darkest days, Mexico could be one country to watch when investing in global trade this year via the Franklin FTSE Mexico ETF (FLMX ).
Why look to a Mexico ETF now? Consider its potential to benefit from the trade war between China and the U.S., which entered a new and potentially even more tense phase with the new U.S. export restrictions on semiconductors in China. Former President Donald Trump had formalized a long-brewing rivalry between the two countries with his tariff impositions, but the semiconductor rules look more like a with core parts of the American economy in tech.
Research from Bank of America shows that while the , to 16.7%, Mexico's share sits at 9.7% as of October – the highest point since 1997. Mexico has gained share in U.S. imports in areas like plastics and textiles, with its wages lower than those in China and crucially, a long and well-traveled border with the U.S.
That last point becomes even more important given that logistics challenges are still hanging around – 61% of logistics managers at major firms and trade organizations like the National Retail Federation told that their supply chains are still not working normally. Almost a third of those same managers added that they expected their operations to operate normally again in or after 2025, or never.
Mexico's shared land border with the U.S. has its fair share of problems, but its economy may be poised to benefit from taking on a bigger share of the U.S. import business. That's where a Mexico ETF can benefit from global trade, with FLMX a candidate to watch.
The ETF charges just 19 basis points to track the FTSE Mexico RIC Capped Index, which includes large and mid-size companies in Mexico but more small-cap exposure than rival Mexico ETFs – as well as a significantly cheaper fee. The strategy has outperformed its ETF Database Category Average and Factset Segment Average over three months, returning 12.6% in that time.
Global uncertainty looks to continue this year, with geopolitics returning to investors' minds in a big way last year. For those looking to navigate those challenges, a Mexico ETF like FLMX could be an option to consider as the U.S. market looks increasingly to the South for business.
For more news, information, and analysis, visit the .
VettaFi is an independent publisher and takes responsibility for our edit staff, research, and postings. Franklin Templeton is not affiliated with VettaFi and was not involved in drafting this article. The opinions and forecasts expressed are solely those of VettaFi and may not actually come to pass. Information on this site should not be used or construed as an offer to sell, a solicitation of an offer to buy, or a recommendation for any product.