Volatility Resource Channel
The bank crisis may be in a lull, but just as the bank contagion seems to have quieted, the Fed returned yesterday with yet another 25 basis point rate hike. Just as Federal Reserve chair Jay Powell reiterated the higher rates for a longer regime, Franklin Templeton's single nation ETFs are showing recent strength and could present an appealing alternative to a pricey, volatile U.S. market for investors.
Single-nation ETFs, a popular part of the ETF roster at Franklin Templeton, offer investors the expertise of country-specific research teams packaged in a suite of indexes. While broader international equities strategies have their role, single-nation ETFs bring to bear deeper knowledge of a given country that investors can swap in and out to create a bespoke foreign equities allocation.
Leading the charge over the last five days has been the Franklin FTSE Italy ETF (FLIY B), returning 4.8% in that time. FLIY tracks an index of large and mid-size firms in Italy for just nine basis points, a fraction of the price of the iShares MSCI Italy ETF (EWI B+) which charges a full 50 basis points. While FLIY has performed well over the last five days, it's joined by five other strategies also seeing strong returns from East Asia to the Middle East to Europe.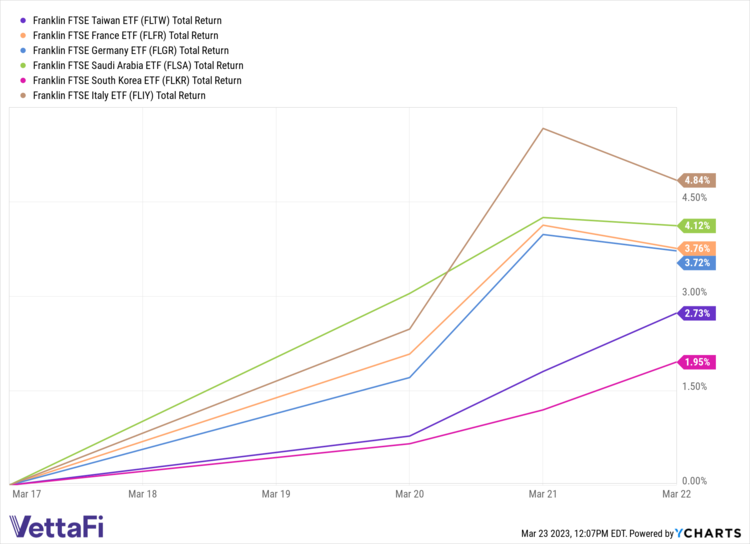 Single-nation ETFs can be a potent option close to home, too, with the Franklin FTSE Mexico ETF (FLMX ) picking up recent notice as U.S. industries look to bring global supply chains closer to home just across the border in Mexico.
See more: ETF of the Week: Franklin FTSE Mexico ETF
Foreign equities may be benefitting from their central banks having done a lot of the hard work of tightening rates and taming inflation last year, with valuations still high in the U.S. relative to foreign markets, as well.
Single-nation ETFs can be a potent tool for diversification, too. Rather than hold a broad international equities ETF, investing in both a China ETF and a Japan ETF can offer needed diversification across Asia in two distinctly different markets that have solid outlooks for the year.
While geopolitical risk and the ever-present challenge of currency remain factors to watch in foreign equities, single-nation ETFs offer flexibility and liquidity to move in and out of countries as needed. Given their recent performance and performance YTD, they may be worth a watch as investors stress over U.S. economic news.
For more news, information, and analysis, visit the Volatility Resource Channel.
VettaFi is an independent publisher and takes responsibility for our edit staff, research, and postings. Franklin Templeton is not affiliated with VettaFi and was not involved in drafting this article. The opinions and forecasts expressed are solely those of VettaFi and may not actually come to pass. Information on this site should not be used or construed as an offer to sell, a solicitation of an offer to buy, or a recommendation for any product.
---
Content continues below advertisement