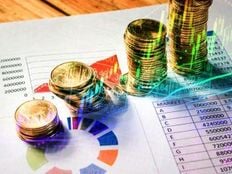 Volatility Resource Channel
Dividends are all the rage right now, with investors clamoring to add income to their equity portfolios as serious challenges loom for the market in the new year. For those investors looking to diversify their dividends outside of U.S. equities, it might be time to consider the merits of an international dividends ETF like the .
It's clear right now, with LVHI's U.S.-focused sibling, the Franklin U.S. Low Volatility High Dividend Index ETF (LVHD A) taking in $85 million in net inflows over the last month . With bond yields seesawing between bull and bear interpretations, as well, income from other sources becomes more and more important.
Many of those strategies which focus on income invest in U.S. equities, with 85 dividend equity ETFs listed for the U.S. region according to VettaFi's database. Just under half of that number target dividends from a global pool, which can provide important diversification if the Fed's campaign against inflation sends the U.S. economy into a tough recession, or if other U.S.-specific issues like a government shutdown threaten.
That's where an international dividends ETF like LVHI may have a role to play. LVHI targets what Franklin Templeton calls "stable yield," using technical and fundamental factors to find sustainable dividends while considering earnings and price volatility. The strategy tracks the QS International Low Volatility High Dividend Hedged Index and caps country exposure at 15%, while geographic exposure is limited to 50%.
Its low-vol emphasis, combined with its technical and fundamental analysis approach to dividends, guide its efforts in investing in developed ex-U.S. stocks. LVHI offers an annual dividend yield of 5.1% compared to 0.45% and 2% for the ETF Database Category Average and FactSet Segment Average respectively.
LVHI has taken in $28 million in net inflows over one month and returned 6.56% in that time, as well, outperforming the ETF Database Category Average. Holding firms ranging from Mitsubishi Corporation (MSBHF) to Bayerische Motoren Werke AG (BMW), LVHI represents an international take on dividend ETFs, and should investors want to diversify their dividends, it may be worth keeping an eye on moving into the new year.
For more news, information, and analysis, visit the .
VettaFi is an independent publisher and takes responsibility for our edit staff, research, and postings. Franklin Templeton is not affiliated with VettaFi and was not involved in drafting this article. The opinions and forecasts expressed are solely those of VettaFi and may not actually come to pass. Information on this site should not be used or construed as an offer to sell, a solicitation of an offer to buy, or a recommendation for any product.